BHS Dating Game!
Tips To Get Yourself A Date This Valentine's Day
February 10, 2022
Valentine's Day is a celebration of love, and making its debut in the times of the ancient Romans. According to History.com, Valentine's Day was originally a Pagan holiday known as Lupercalia. Roman priests would sacrifice a goat and dog in the cave where Romulus and Remus were said to be raised by the she-wolf, as a prayer for fertility and protection. The festival continued where they used the sacrificial blood to bless harvests and women with fertility. The festival ended with single men picking a woman's name out of an urn and they would be paired for the next year.  Could you imagine that today?
When the Catholic Church took over the holiday, it was named after three saints, all named Valentine who were martyred for their faith. It was minted as "Valentine's Day" for the first time by Pope Gelasius in 496 AD and was later labeled as a day of romance by the English poet Geoffrey Chaucer in 1375.
During the mid 1700's was when Valentine's Days gifts became popular and since then they have increased with popularity. Love is a great thing on the fourteenth of February, but if you're having trouble finding some, look below!

There are many ideas that can be given, from movies to dinner, to walking or ice cream socials. There are a myriad of different date ideas, and we're here to recommend ideas with DATA! According to the population that took the poll: 35.5% would want dinner as part of a date.
The best restaurants in the area to go on a date are:
The Little Red Barn

is a great place to have ice cream and a few other basic food items

Beans in the Belfry

is great for coffee

Potomac Street Grill

is great for a real dinner with diverse food options

Wings & Pizza Shack

is great for wings and pizza

Boxcar Burgers

has phenomenal burgers and ice cream for dessert
42.9% of people chose movies but movies unlike restaurants are 100% subjective and this spotlight is about date reviews, not film reviews.
A result that was not expected is that 24.4% of people say that they would like to have a date with the great outdoors as a wingman. Examples of this are hiking and going on picnics.
There are still date options that you can do inside the comfort of your own home! 13.3% said they prefer a quiet evening; and 9.6% said gaming, so also take that as you will.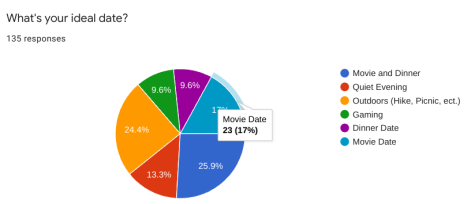 One way you can increase your odds of getting a date is to consider your charisma. Every person has different charismatic qualities that makes them equally suited for a partner. According to BetterHealth, "Good communication is an important part of all relationships and is an essential part of any healthy partnership."
It isn't just talking that will make it so you get a date, listening also makes a huge difference in your success. According to BetterHealth, "A good listener can encourage their partner to talk openly and honestly." Several tips for listening are to show your interest in what people are saying, to be aware of your tone, and to avoid being distracted. Talking to people is quite difficult, but with practice, anyone can get a date.
Another way you can get a date is your style. Style is quite important, from designer brands to trendy clothing, it eventually becomes inevitable to focus on style. But there are a few don'ts when it comes to clothes…
You do not need to wear trendy clothes to impress. To be yourself and wear what you like could be enough to catch someone's attention. You don't want to wear dirty clothes or clothes that don't make you look or feel like your best self. Sure some may be comfy, but there is a line between decent (for a date) and comfy home clothes, and that is a fine line. The last don't is to not judge other people's clothing, for that will almost definitely make you not have a date. Style is important to most people, but it isn't always a date-breaker.
What is your ideal date?
Sorry, there was an error loading this poll.
A big tip to getting a date for The Day of Love is perception. Perception may not seem like a big deal but it is!  First impressions go a long way. According to a study from Proceedings of the National Academy of Sciences,  "Profiles that feature expansive photos were 27% more likely to get a yes."  (More perception and more data to judge a book by its cover lead to more risk takers taking a chance for a date.)  Posture and pictures make a difference for first impressions… According to a social psychologist from the University of British Columbia, Jessica Tracy,  "Not everyone is going for […] Expansive posture. We have evidence that sometimes these kinds of open displays lead to problems. It can look arrogant." Even though the study in question is for online dating, the same principles still apply to the real world.
The last tip for you is to just be yourself, and the right people will like you for who you are.
So, you've read through all of our tips for success. Do you feel confident? Excited? Confidence, in the right quantities, is great for your self-esteem. There is only one more thing you need to do to successfully hook that date for Valentine's Day!