Girls Soccer Takes 1A Section
BHS Girls Soccer 2021 Successful Season
February 23, 2022
Our season started off with what was supposed to be a scrimmage against St. John Catholic Prep, but instead it was canceled due to the weather. The season really began with the next scheduled game up North in Hagerstown. So the real season started when we went to North Hagerstown—we started off the year with an 8-3 win.
Later, one weekend we got up bright and early and hopped on the bus to travel to a Mountain Ridge tournament. We started off the tournament strong by winning against Mountain Ridge, and later played Oakdale and lost. But considering that we just played a game before playing Oakdale and it was their first game of the day, we weren't really upset about it, especially because we never really play Oakdale much since we are a 1A school. Everyone left with a nice tan line on their neck, legs, and arms from being out in the sun all day and some people got sunburnt on their face. We played many more games during the normal season before playoffs.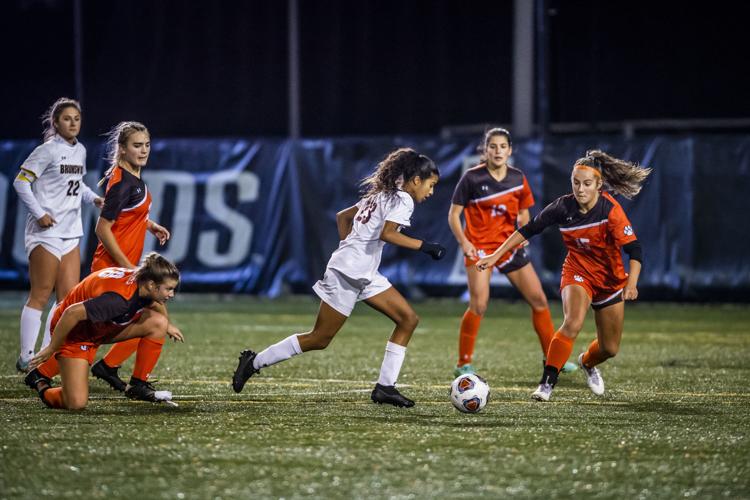 Our team this year was solid, and got along well without any drama. We enjoyed the time spent together, and made some great bonds.. We genuinely enjoyed having practice sometimes because we could all see each other. During our season we had 24 goals scored against us, but had scored 73 goals. We ended the season with a record of 11-2-0.
Our biggest game that we had the entire season was when we played Linganore, October 19th, on their senior night. We were all very determined to beat them. We started off strong with a 1-1 tie and then a 2-1 lead for us. Unfortunately, they ended up winning and the final score was 4-2. We didn't let that one game get to us, especially knowing Linganore's records.
"
During our season we had 24 goals scored against us, but had scored 73 goals. We ended the season with a record of 11-2-0"
Then we went into the playoffs and made it all the way to the state finals. It was really cool that our boys soccer team also made it to the state finals, so we all got to experience it together. Unfortunately, we lost the state game 6-0. But are still state finalists.
We were all proud of how our season was and how much fun we all had on and off the soccer fields with the karaoke on the bus, and messing around at practices. The girls on the team had very good chemistry since most of them have been playing together since they were young. These were more than just teammates, they were friends and family on and off the field. They all truly had great bonds with one another which helped us make it as far as we did.