A Puzzle Worth Solving
Surelocked In Escape Games, Great Entertainment, Great Mysteries!
February 28, 2022
Do you enjoy mysteries or brain teasers? Have you ever tried an escape room? If you don't know, an escape room is a place where you go to solve puzzles to uncover a mystery, or find something; sort of like a quest. You usually do this with a group of friends or family, in an allotted amount of time. There are several escape rooms to choose from in the Frederick area, the best of which-in this writer's opinion—is Surelocked In Escape Games.
Christopher Sparks, owner of Surelocked In, creates all the blueprints for the rooms himself, to give you a unique experience to any other escape room. Your progress will be monitored by a Game Master, who knows the room forwards and backwards to help you along the way. And as a former Game Master myself, I can tell you that to keep everything COVID-safe, you can rest assured knowing your room is clean and private. That way, you won't have to worry about another group getting thrown in with yours. 
With 60 minutes to finish, and three hints to spare, Surelocked In makes for an exciting challenge for any group looking for some fun. Would you be able to finish in under 60 minutes? Find out by booking a room! Be sure to tell them Chloë sent you!
Surelocked In Escape Games's rooms, and their varying degrees of difficulty: 
Tyrannosolvus Rex, Dinosaur-Themed Room: Easy
Partially in the dark, this room serves as the best one to start with, and work your way up the chain as you come back for more. It's also a perfect room for young kids! 
The Great Santascape, Christmas Themed Room: Medium
No lights-out, this room is a great fit for those who carry the Christmas Spirit with them all year round! It also makes for a good family room with young kids. 
Wild Wild Quest, Cowboy-Themed Room: Medium
No lights-out, this room is great for a family trip to Surelocked In! 
The Witching Hour, Haunted House Themed Room: Hard
Completely in the dark, save for a few candles, This room has a 4% success rate! It's one of the hardest rooms in Maryland. Try if you dare! Best done with a large group.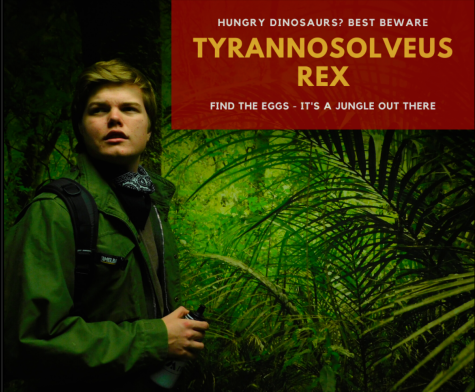 And with rooms like Ship Outta Luck, their pirate-themed room, and Knight Out, the King Arthur themed room under construction, soon there will be more rooms to choose from, so you can keep coming back for more!
Not to mention Surelocked In Escape Games partnered up with the Civil War Medicine Museum in Frederick a few years ago to put on a city-wide scavenger hunt based on the real-life events from the Civil War! When Confederate soldiers took the city and held it for ransom, the people of Frederick pulled together to pay it off themselves. As you solved the clues and riddles, talking to the reenactors dressed in time period-appropriate clothing, you would collect the 'money' to help pay off the ransom by the end of the day!
Surelocked In has more events such as this swirling in the possible future, so stay tuned to hear about newly opened rooms and fun activities for family and friends!
Surelocked In Escape Games is also hiring! As a former Game Master myself, I can tell you that you'll enjoy every minute working with the talented employees that bring such life into the rooms there.
If you are interested, be sure to visit them:
Location: 5 N Market St. Frederick, MD 
Email: [email protected]
Phone: 301.662.6356
Book Now on Their Website: https://www.surelockedin.com/