Mental Health: Seasonal Depression
Depression Is A Yearly Thing
April 14, 2022
This article contains potentially triggering topics: mental illness, suicide, depression, and self-harm.
Please be aware of your mental state before reading and reach out to the appropriate source linked below the article.
Mental Health — A range of illnesses and disorders that affect almost all of us. As individuals, it hits us all differently. It can come in waves or hit us straight in the face. Sometimes it makes us become a whole new person. We change mentally, physically, emotionally and verbally. It takes over us with no warning. This illness is also referred to as S.A.D (Seasonal Affective Disorder).  It affects over 11 million people world wide. Many researchers have discovered that a possible certain hormone can trigger an attitude- related change that occurs year round. Where we live, the weather can go from winter one day to spring the next! This can be very rough on some individuals as some parts of the weather bring a bad past or remind them of someone or something that's happened to them. In Brunswick, there is a lot of farm land and woods that can be very dreary looking when it rains or when it snows.
The weather can have an emotional effect that can drive people to depression. Studies show less sunlight during fall and winter leads to the brain making less serotonin, a chemical linked to brain pathways that regulate mood. Doctors say that "SAD usually starts in young adulthood and is more common in women than men."  A main change that's easily noticed is that your mood and behavior shift along with the season change. It's not a separate mood disorder but a type of major depression or bipolar disorder, sometimes called manic depression. There are many ways to help with these issues such as traditional antidepressants, therapy and getting out early in the morning to get more sunlight and feel as if everything is okay with the world.  Getting out into the early morning light is a way of treatment that therapists "prescribe" as a way of light therapy. They say that the daily effects of being outside can help improve the way your body feels during the cold winter months or just a regular day.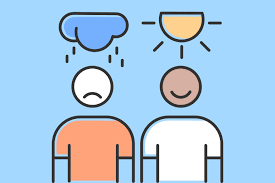 A few more options therapists suggest are:
Begin using a

10,000-lux light box when fall starts

Eat a well-

balanced diet

. This will help you have more energy, even if you're craving starchy and sweet foods.

Exercise

for 30 minutes a day, five times a week.

Stay involved with your social circle and regular activities. Social support is very important. 
As we transition into a new season, remember that these feelings won't last forever and if you need help, please reach out and get help. You are important and with help you can overcome these challenging emotions.
Helpful Resources: 

Crisis Services: Dial 211 –

Help when you feel really anxious or really depressed and need someone to talk with so that you can stay safe.

Crisis Text Line:

Text

HOME

to

741741
Suicide Prevention Hotline:  1-800-273-8255 – Help if you are thinking about suicide.
Depression is common and treatable. If you think you have depression or any other triggers, seek treatment from your health care provider as soon as possible or the resources below.