BHS Softball: Coming Back In Full Swing
2021-2022 Softball Season At Brunswick High School Will Hit It Out Of The Park!
March 30, 2022
This year on March 1st, with only 24 players between the varsity and junior varsity (JV) team followed by a brand new coaching staff—BHS's softball program is back better than ever. With 11 of the 24 players that attended try-outs, the varsity team has had a strong start to the season. Stepping up to the pitcher's mound this season are both freshmen Brooke Munday and Emylee Minnick, with junior, Anna Putnam, and sophomore, Kylie Lancaster as their catchers.
So far, this season has been packed full of fun events! On Friday, March 18, both the JV and varsity teams combined to partake in a sandlot game against the 12U Brunswick Softball Little League. A sandlot game is like your normal softball game, however it is less structured and a lot of fun for the players! The following day, both teams then played a tournament of scrimmages against Smithsburg High School and Damascus High School. With a loss to Clear Spring and a 27-9 win against Smithsburg on varsity and a great game between Brunswick and Middletown's JV team, the Lady Roaders are off to a great start!

To get a further look into the true success that the Brunswick High School softball program is developing, I asked senior Varsity Team Captains Shelby Johnson and Carly Bruchey a few questions that go into greater detail about the Brunswick High School Lady Roaders.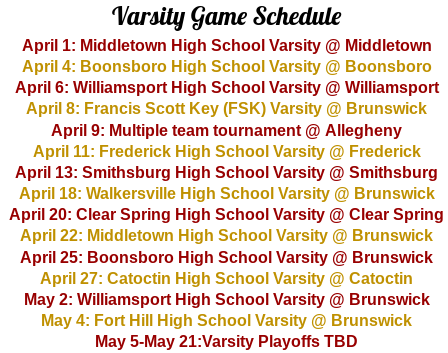 What is different about this softball season compared to your previous seasons at BHS?
Shelby and Carly both agree that the new coaching staff and the environment is much different than previous years. Carly says that it's finally fun to be on the field and this season has truly helped her gain her love for the game back rather than dred minute of it. 
How do you think the team captains have positively impacted the success of the program so far this season?
"Because we're awesome!!" was Carly's first response. However, they both were in agreement that the team captains are a few of the only players that remember what playing on the team was like before the new coaching staff. They said that this past knowledge helps keep the same organization and makes it easier for them to recognize what needs to be improved to be able to win. Both Shelby and Carly also understand the importance of balance between seriousness and having fun on the field. Shelby says, "[…] we still want respect but at the same time we don't want it to be miserable for every new player." 
What part of the program makes you the most optimistic about the rest of the season?

Shelby is really happy with the team's hitting skills. She believes that once the team catches up to faster pitchers, such as Catoctin, Middletown, and Walkersville, we will be set up for success. She connects this to last year by saying, "[…] last year everybody hit every kind of pitch, but this year we have a lot of girls that have never played varsity before so they haven't played at that kind of level. So, I think once we start making contact with everything we're really set up for a good year." On the other hand, the team's fielding is making Carly the most hopeful for this season. She loves that we finally have a set infield and outfield with a few changes here and there. Carly says, "You can hit as much as you want, but if you can't field a ball the runs mean nothing."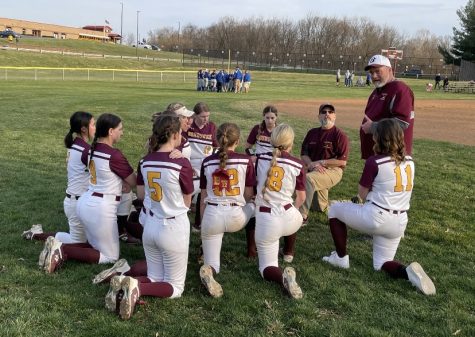 What is the biggest obstacle you believe the program will have to overcome this year?
Both Shelby and Carly acknowledge some obstacles the team has already overcome, however they emphasized the need for a change in attitude. Carly touched on the fact that this year, there is not as much structure. So, players need to understand expectations and boundaries. They recognize the difference in mentality between some of the JV players and the varsity players. Shelby says, "[…] a lot of these freshmen didn't get all of their middle school years because of COVID […] so they haven't really grown up yet and they haven't had the opportunities Carly and I have had to grow up. When COVID hit, we were sophomores and we were already half way through high school. So, I think everyone needs to focus on the fact that we are a team."
A special thank you to Coach Tony Russo, Coach Kevin Smith, Coach Jen Georg, Coach Carrol Haugh, Coach Kevin McCarthy, and Coach Brian Munday for taking the Brunswick High School softball program and making it something amazing!