Brunswick's Fall Sports
An Exciting Way To Begin The School Year
February 24, 2023
Brunswick High School's fall sports packed a powerful punch in the 2022-2023 season. With a Class 1A state title and admirable character exhibited in our athletes, the Garnet and Gold Gazette would like to highlight our teams, athletes, and their accomplishments.
Starting off strong, Brunswick High School's girls soccer team finished their season with a record of 14-1-2. The girls won against their competitors North Hagerstown, Mountain Ridge, Boonsboro, Liberty, Smithsburg, Walkersville, Catoctin, Francis Scott Key, Middletown, Clearspring, and Williamsport. They put up a fight against South Carroll and Linganore ending with tying scores and ended their season with a 2-1 loss against South Carroll. These girls earned a total of 10 All-County titles including Central Maryland Conference (CMC) First Team, Second Team, and Honorable Mention. Alongside earning CMC First Team title, player Ryley Backer has committed to Shepherd University to play NCAA Division III soccer, continuing her academic and athletic career. Alongside Ryley, Atiya Jackson recently committed to Shippensburg University to play NCAA Division II soccer while perusing her academic career. Photos provided by Annabelle Caruso. 
Brunswick High School's boys soccer team brought the same intensity they had for their 2021-2022 season—bringing home yet another Class 1A state title. They ended their season with a 14-3-1 record, winning against Leonardtown, North Hagerstown, Boonsboro, Smithsburg, Walkersville, Catoctin, Middletown, Williamsport, South Carroll, Linganore, Perryville, and Fallston. The boys tied with Mountain Ridge and lost to Governor Thomas Johnson, Liberty, and Tuscarora. Making up almost half off the CMC All-County First Team, Brunswick High School's boys soccer had a total of 9 All-County titles. Players Ricky Cicmanec and Logan Malone will represent Brunswick while furthering their academic and athletic career playing collegiate mens soccer at York College and Frostburg State University. Photos provided by Ricky Cicemanec.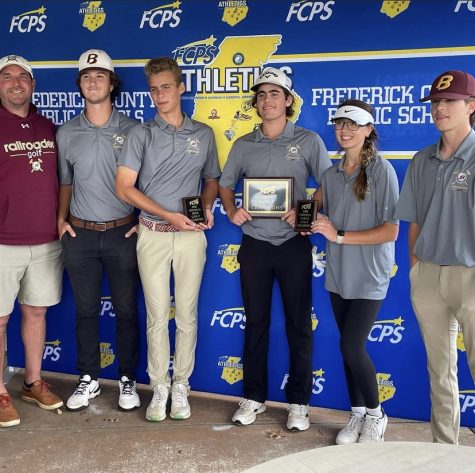 BHS's golf team persisted through their season—ending with states at University of Maryland College Park's golf course. For counties, the team shot a 302 to place first, beating Urbana by 11 strokes. They shot 323 to qualify for states and Hank Adams placed second individual and Luke Adams's team placed third. Lastly, our golf team swept the CMC All-County Golf team, including Luke Adams and Alexandra Swam in first team, Oliver Ellison and Colin Pearre in honorable mention, and golf player of the year was awarded to our very own Hank Adams. Congratulations golf on an amazing season! Photo credits to @bhsgolf_. 
Our growing field hockey team has persisted against many challenges. Their record of 1-10 does not reflect the rigor these girls take the field with.This team represents Brunswick with their character on the field—even when games are tough. Three of our field hockey girls also put Brunswick's name on the CMC All-County Field Hockey report with honorable mentions. Photo credits to Heather Shawver. 
Brunswick's football team brought attention from all over Maryland when they traveled to Allegany County for the Semi-final game against Mountain Ridge High School. These boys finished their season with a record of 9-4; the best record they've had in years. They won against tough competitors like Liberty and Catoctin and only lost to South Carroll, Middletown, Walkersville, and Mountain Ridge. These boys almost made it all the way to states, however they faced a tough loss against Mountain Ridge, a team that was 12-0 when the game was played. Our team had a total of 10 CMC All-County titles in both offense and defense. Photos provided by Ava Stiglicz.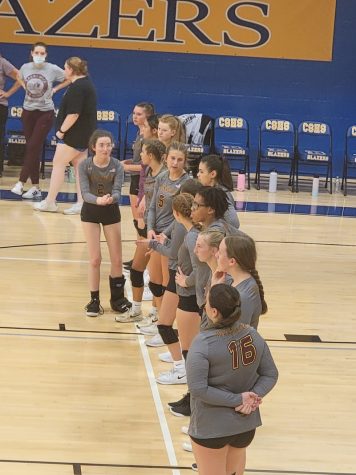 Our volleyball team has faced many challenges in the past few years. With an unreflective record of 0-7, these girls have faced coach changes, lack of players, along with other obstacles. Our team put Brunswick's name on the CMC All-County volleyball honorable mention list with four players; Victoria Bell, Lindsay Borawski, Alexis Amoranto, and Eden Smallwood. In the end, these amazing girls still managed to keep smiles on their faces and have a fun season full of learning and growth. Photo provided by Ashley Junker.
Last but not least, our cross country team began their season on September 3, 2022, with the 39th Lee & Anne Zumbach Brunswick Invitational. By the end of the season, our runners showed loads of improvements. For the 1A West Regional Championship Lauren Laverty placed 9th and Morgan Jarrell placed 11th, qualifying both of them for the Maryland State Championship as individuals. Ray Gibson placed 3rd and the boys team as a whole placed 3rd overall, advancing them to the 1A Maryland Cross Country Championship. For their last race, the boys placed 3rd overall once again with Ray Gibson placing 2nd, Sammy Joseph placing 19th, Morgon Corwine placing 25th, and Lauren Laverty placed 11th. All of the runners listed ended their season state medaling! Photos credits to @brunswickhsrunning. 
If you were part of a varsity fall sports team during the 2022-2023 season and you would like your individual sports picture included, please email your photo to [email protected] or submit them to our Instagram @BHSGazette!