Cats, Politics, And More Government Accountability
This Stray Cat Is Brunswick's Voice Of Reason
February 2, 2023
Brunswick, Maryland—home to a unique political activist—a stray orange cat known as Hobo Harry, who, according to his Facebook account, is running for City Council. Despite his feline identity, Harry has become a very human voice for the town's residents, using Facebook to highlight important issues and hold local government accountable. Hobo Harry has embodied the nearly universal belief system of the town's frustrations with their leadership, to the point that they think a cat may be able to do a better job.
One issue he addresses is the lack of open communication between Brunswick citizens and the local government, which led to a ruling by the Maryland State Board that officials had violated the Open Meetings Act. As Hobo Harry points out, he has been "meowing loudly about this issue for years."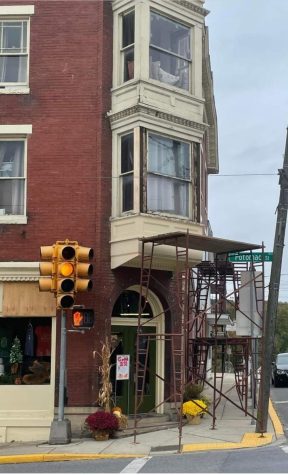 Another issue in regards to struggling communication is infrastructure, as evidenced in an October 25th post about a sudden project across the street from City Hall: "Permits? Signage? Pedestrian safety measures? This cat can hardly wait to see how the RR Sq project disruptions and this 'paws off' approach play out…"
Although, it's not all apathetic; we had a chance to talk to Hobo Harry, and he acknowledged that the town is taking action in regards to its biggest infrastructure issue—the quality of water: "The city has critically under invested in water infrastructure historically—specifically distribution. But through a combination of bonds, state funds, and allocations from various federal programs. Congress passed during the previous session—the city is spending serious money and updating or replacing key components of the water system."
"
It's hard to believe that a stray cat could have such an intricate understanding of local government. It's a unique, novel approach to small-scale political activism, one that stimulates change and unites citizens over common issues.
Harry has increasingly become a staple in Brunswick's unique community, as shown by his recent collaboration with City Council candidates during July of last year. Three out of the four candidates filled out a questionnaire that allowed candidates to directly address straight to the point questions about local issues. Brunswick citizens contributed to the questionnaire, allowing the community to collaborate with the figurehead of Brunswick politics and the politicians themselves.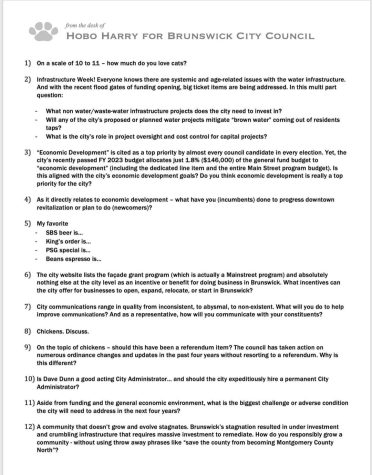 We asked Harry about his origins. How did you dip your paws into Brunswick politics?
"As a lifelong Brunswick resident, I've always had a passing interest in its politics. But I was mostly frustrated that nothing ever changed in this town"
And so, in 2018, he decided to speak up, "One night I said to myself, — 'Why not a cat? Nothing in the ordinances specifically says human.'" 

We were also curious about his name, to which he replied simply with, "Harry is a family name." Wise words from a wise cat.

With all things considered, Hobo Harry's feline role as a stray wanderer serves as a gentle reminder to officials that they are being observed and his healthy influence demonstrates the power of small-scale political activism in a manner that could only have a home in a place like Brunswick.
On a scale of 10 to 11, how much do you love cats?
Sorry, there was an error loading this poll.