Ampersand Open In Downtown Brunswick
Stop By, You Won't Regret It!
February 21, 2023
The city of Brunswick is abuzz with excitement as a new boutique store, Ampersand, makes its grand debut. Curated with an eye for quality and an appreciation for vintage goods, the store offers a wide array of items to suit every area in and around the house, from the great room to the garden.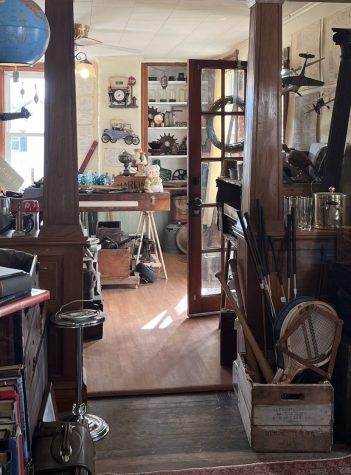 One of the most striking aspects of Ampersand is the diversity of its offerings. From vintage silverware and small plants grown in repurposed 1950s McCormick spice tins, to unique and stylish furnishings for the patio and yard, the store has something for everyone.
The mastermind behind this innovative and eclectic enterprise is Allison Wilder, an entrepreneur with a passion for all things vintage and a keen eye for design. Wilder has spent years scouring estate sales and flea markets to find the perfect pieces to fill her store, and her hard work has certainly paid off.
According to Wilder, the store has been a dream of hers and her family's for many years. "I used to have a children's consignment store downtown, but was forced to give it up when I began working full time in the public school system. But because the property came with a vast collection of existing inventory, it gave us an undeniable reason to open up for business again," she says.
The store's location in downtown was chosen with care. "Across the street from a Brunswick favorite 'Smoketown Brewery,' and just down the road from the cigar shop, we knew that the traffic already existed and that the public would quickly welcome a new and creative addition to Potomac Street," Wilder explains.
Residents of the area can't help but notice the store's unique name. Wilder recounts the inspiration behind the eponymous name sharing that she, "Was in search of a moniker that was not only intriguing, but also representative of the store's broad array of offerings. I encountered a quandary in finding a term that would not erroneously reduce the perception of our scope of products. As a former head of the English department at my school, the ampersand symbol's literary significance stood out to me—and Ampersand was born."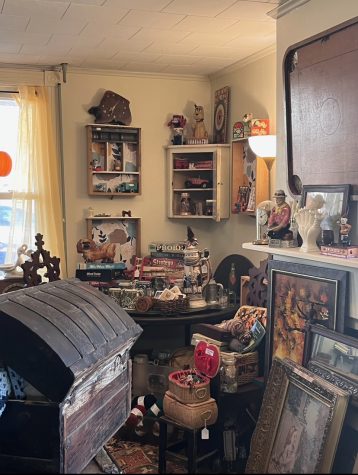 Wilder intends to renovate the basement of the property for additional commercial space, and open the upstairs for additional proprietors. The house itself has a living history that many residents recount vividly. Customers  come in the store and tell stories about having family dinners with the well known Brunswick Nuse family, and express that the building has been a Brunswick staple even before Ampersand opened.
Wilder and her family have "lived in Brunswick for the last 22 years," and have, "a deep appreciation for the city's taste for this kind of thing. The community matters to us, and for this reason, we are committed to providing not just a store with all the best vintage goods, but a welcoming and comforting experience for shoppers," Wilder says.
With its unique and carefully curated selection of vintage goods, and its warm and inviting atmosphere, Ampersand is more than just a store—it is a destination. Wilder and her family are dedicated to providing the best possible shopping experience for their customers, and it's clear that their commitment to the community is what sets them apart.
Her daughter, Lucy Virgilio, who works at Ampersand, reports that traffic to the store has been steadily increasing, and sales are already showing that Brunswick is welcoming this new addition to the community with open arms.
The store's unique and nostalgic selection of items is sure to delight both the discerning collector and the casual shopper alike. From vintage kitchenware and gardening tools, to globes, books, billiard balls, and military memorabilia, Ampersand has something to offer for every taste and budget.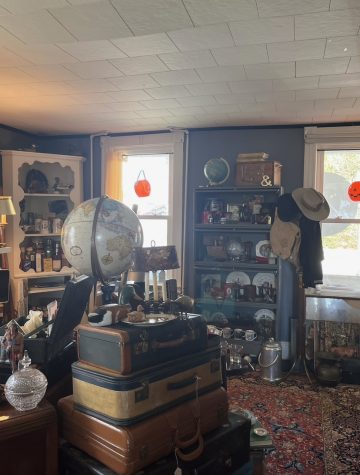 With a single visit, shoppers realize Ampersand isn't just a store—it's an experience. The warm and inviting atmosphere, created by Wilder's keen sense of style and attention to detail, makes shopping at Ampersand a delightful and fulfilling experience.
With its wide selection of high-quality vintage goods, Ampersand is sure to become a destination for those in search of unique and stylish items for their home. And with the store owner's commitment to offering a constantly evolving and careful selection of goods, there's always something new and exciting to discover at Ampersand.
Be sure to drop by Ampersand and see for yourself what all the fuss is about. With its unique offerings and welcoming atmosphere, Ampersand is sure to become a favorite shopping destination for residents and visitors alike.
Follow the store's Instagram page @ampersand21716