Clubs at BHS
Connect With Interests During Connections
April 1, 2022
Clubs are an essential part of high school. They can guide you to learn new things, meet new people, and do something you're passionate about during the school day. Brunswick High School has a wide variety of clubs to offer. Clubs give students opportunities to help with community, plus they look really good on college applications and resumes. Overall, joining clubs will make you a well-rounded student and show you care about school.
Some of the clubs BHS offers include Student Council (SGA), Journalism Club, Model United Nations (MUN), Random Acts of Kindness (RAK), Fellowship of Christian Athletes (FCA), Minority Essence, and many more. With the clubs you can take leadership positions. Students who hold positions of high power within their clubs are role models to their classmates. These positions are very honorable and normally allow students some voice in the building.  Here are a few highlighted clubs at BHS:
SGA—
BHS has a very strong student government. They meet 1-2 times a month and plan things like homecoming, spirit weeks, and other events to boost school spirit. Secretary of Student Government Paige Trendell says, "The members of SGA  with titles belong to Ms. Bentley's connections and work on SGA related things a few times a week" When asked "Why are you in SGA?" Paige said, "I am in SGA because I like helping the school and planning events. It also gives me something productive to do in connections, and gives me an opportunity to work with new people." SGA has many plans in the works for this year that the members are eager for their classmates to participate in. If you want to help boost school spirit and plan fun events, join SGA! Contact Ms. Bentley (room 211) to join.
Journalism—
Journalism is not only a class but a club as well. Ms.Graziano's Journalism club is new to BHS this year. If you love to write, this club is perfect for you. It is low pressure and a good way to express how you feel. Options on what you write about are limitless. From reports on Brunswick sports, to current events around the world, and opinion pieces. In journalism club you can write articles that will then be published in our school's newspaper, The Garnet and Gold Gazette. Message Mrs. Graziano (room 214) on Schoology to join this club and became one of the Garnet and Gold Gazette's engineers.
Minority Essence—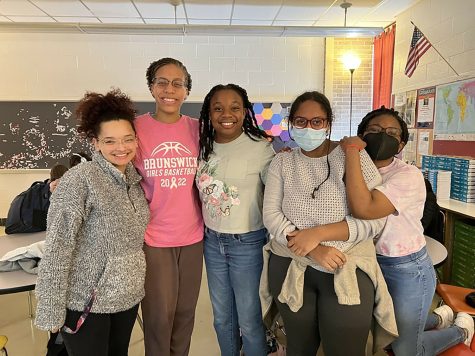 "Minority essence is a club created to foster the differences and individuality of the students in our education communities by creating an environment where minorities feel safe and equal, and create a culture that recognizes, respects, and unites every race and ethnicity and celebrates their cultures." Brunswick's Minority Essence Website states. This club works to help all students feel included. They have worked to create support groups, heritage nights, and work to inform the community on the struggles of minorities and how they can help. You can join the Minority Essence club by going to the about section of their website and filling out the "Become a Member" survey. 
RAK—
Random Acts of Kindness club is very popular at BHS. Senora Masotta (room 209) is the RAK advisor and is helped by a board of student leaders. Random Acts of Kindness club works all year to help our school and community. RAK meets 1-2 times a month in the auditorium to brainstorm ways to spread kindness throughout our school. RAK usually plans one or two "events" for each month that have some kind of positive impact on the school or community. For example in February RAK had a pet supply drive that was donated to the Frederick Humane Society along with a Valentine's Day Spirit Week. In March they had fun St. Patricks Day activities around the school where students could win prizes. The members of RAK help brianstorm, organize, and execute these events. RAK is a very fun club and a great way to spread kindness.
FCA Club—
Fellowship of Christian Athletes (FCA) is a great club for religious athletes. This club is run by Mr. Spezio and they meet in the new gym. FCA's goal is to encourage all of the student athletes in the school. If you are interested contact Mr. Spezio.
Book/Literature Club—
Book or Literature club is a great place for students who love to read. They meet in the media center and discuss books. It is a great forum for students who enjoy reading, and want to be able to share their thoughts and feelings on books they are currently reading, with other students who are just as passionate about books. Join this club by going to the media center and talking to Mrs. Thompson.
Chess Club—
If you love chess this is the club for you. Chess club will enhance your chess skills through game play and competition. To join you must already have some knowledge of chess and be able to play a game. Contact Ms. Ruby (room 207) if you want to join.
Drama Club—
Drama Club is a great place for students who love the theater. This club serves to educate students on the performing arts. Join this club to learn about theater, fundraise for school productions, and participate in fun theater activities/games. Not only will you be dancing, acting, and singing, the theater club also explores the stage crew side of theater. Contact Ms. Peterson (room 400) to join.
Environmental Club—
Environmental club is a fun opportunity to learn about our environment. Meet with Mr. Harrington and Mr. Herber (room 212) to plan and do projects to help our environment. This is a great club for people interested in helping our community and gaining service hours. Environmental club does both global and local projects. Optionals are limitless, do your parts and help the environment.
MUN—
Model United Nations (MUN), is a very fun club run by Mr. Johnson. Students act as fake representatives of nations. They research countries and pick the ones they are most interested in. They meet in connections to collaborate with other countries and act as the United Nations. MUN also attends conferences with other schools around FCPS. You can join by contacting Mr. Johnson (room 221) via Schoology.
Film Club—
Film club is a fun way for students to focus on film study and filmmaking. Members of this club get to analyze films. You will also eventually be able to construct your own moving pictures. Contact Mr. Shupp (room 215) or Ms. Thompson if you are interested in joining.
GSA—
Gender and Sexuality Alliance (GSAis run by Ms. Reynolds (room217). GSA provides a safe community for LGBTQ+ students and the allies. This club participates in many activities including charitable collections, a representation at Santa's Workshop, a spring banquet, Day of Silence, and other political actions. GSA works to make BHS a place where all students feel accepted.
FFA—
Future Farmers of America (FFA) is a great club for Brunswick's farmers or those interested in becoming farmers. This club will help you develop the leadership skills and growth necessary to become a farmer. You will learn a lot about agriculture and farm life. Contact advisor, Mr. Harrington, (room 603) to join.
Girls Who Code—
Girls who code is a great club for girls interested in the world of computer science and coding. This club helps girls learn to see themselves as computer scientists, learn all about coding, and meet other girls with the same interests as them. If you and a girl interested in coding contact Ms. Thompson or Ms. Benitez-Smith (room 108).
Interact Club—
Many highschoolers need service hours. Interact club is a great way to get them. This club allows you to volunteer around the school and community. The interact club is sponsored by the Rotary Club and Rotary international. To join, reach out to Ms. Ronk (room 200) or Ms. Sherman.
Mindfulness Club—
If you are interested in the latest brain research on how to stay happy and manage stress, This club is very helpful for students who are often stressed and looking for ways to manage it and be happier overall. This could help you with keeping up with your grades as well. Contact adviser Ms. Ruby (room 207) to join this club.
Millionaire's Club—
Millionaire's Club is a great way to expand your financial knowledge. Join Mr. Yoho (room 106) to learn about personal finance, and how to develop a business. You will do things like play the stock market game and learn to buy, sell, and trade stocks. Students must maintain eligibility in order to stay in this club.
Nutrition Club—
Nutrition is very important, especially for high schoolers. Nutrition club works to promote a healthy lifestyle by guiding students to eat healthy, exercise, and stay stress free. This club is very beneficial and a good way to guide yourself to a happier and healthier school year. Contact Ms. Lorenzen (room 102) to join.
Rachel's Challenge—
Racheal's challenge is a great club with goals of inspiring and empowering all students to promote a positive culture change within BHS. They meet on club days and participate in fun activities to spread kindness and compassion. If you want to join Racheal's challenge contact Ms. Pfaltzgraff (room 202).
Rock Club—
Rock club is great for geology loving students. Join Ms. Tucker (room 600) to discuss rocks and overall geology. Participate in activities like Mancala and other rock related tasks.
Spanish Club—
If you want to learn more, and be connected to the Spanish speaking world, join the Spanish Club. Learn all about the language and culture. This club also helps the community. You can develop leadership skills by doing many different community service projects.
See some of these advisors above or Mrs. Thompson to join any interesting clubs of your choice!