"The Florida Project" Opens Our Eyes To The Poverty Crisis
March 6, 2023
*Media Spoilers: This article contains spoilers for the 2017 film "The Florida Project."
*This article contains potentially triggering topics: drug use, and sexual exploitation.
Please be aware before reading. 
     When thinking about the greatest movies of the late 2010s there are a couple that come to mind. The first (for me) being the 2017 Sean Baker film called "The Florida Project" starring Brooklyn Prince, famously known for her role as Moonee, a six-year-old girl living in Florida. She lives with her mother, Halley played by Bria Vinate. Co-starring Willem Dafoe as Bobby Hicks as the manager of the Magic Castle motel in Kissimmee, Florida, roughly six miles away from Walt Disney World: "The Happiest Place on Earth."  
     The movie follows Moonee and her two friends, Scooty (played by Christopher Rivera) and Jancey (played by Valeria Cotto) during the hot Florida summer. Although the motel that the family stays at has a strict policy for long-term residences, Bobby, the motel manager, arranged for Halley and people just barely scraping by, to have a place to stay. Moonee and her friends are often seen causing mischief. In the first few minutes of the movie, Moonee and friends are seen spitting on a car at a neighboring motel. Later when they are sentenced to clean the vehicle, a new character is introduced, Jancey. Bobby has an obvious soft spot in his heart for the kids, looking out for them even though it is not his job. Moonee, Scooty, and Jancey are often seen walking from place to place without parental supervision, begging for money for ice cream, and accidentally setting houses on fire.
     Halley loves Moonee and would do anything for her. The rent for the Magic Castle Motel ends up going up, so Halley is not happy and causes a scene in the office. Toward the end of the movie, she is seen using drugs and prostituting herself while hiding Moonee in the bathroom to be able to make money for rent. Although not deliberately saying that she is, the audience can infer. Halley goes to Ashley (Scooty's mother, a former friend) to make amends and ask to spot for her rent. Ashley confronts Halley who responds by attacking Ashley giving her a black eye.
     The next day the Department of Children and Families came to interview Halley and Moonee. When they leave, Halley and Moonee clean their place and get rid of all Halley's' remaining drugs. The next day when Halley and Moonee come back to the motel room, they are met with police officers investigating Halley prostituting herself for rent money. They are planning to take Moonee into foster care. Moonee runs away from the scene to the neighboring motel to say goodbye to her best friend, Jancey. Moonee says through her tears, "Please, you're my best friend and this may be the only time I'll get to see you again." Unable to tell her what is happening Jancey takes Moonee's hand and starts running. They are seen running all the way to Cinderella's Castle in Walt Disney World and this is where the movie ends.  
     One of the best things about this movie is the symbolism of the various settings of the movie. Parallels between the different adventures that the troublemakers go on compare to different attractions in Disney World. Moonee and her friends could only dream going on the famous Safari in Animal Kingdom, so she goes "on a safari" to gaze upon the cows near the motel. The abandoned condos correlate to the Haunted Mansion, a place they would never be able to visit. Moonee and her friends are only six miles away from "the most magical place on earth," but their living conditions do not reflect this. The movie shows that children can see the best in everything, finding their own magic even in the worst of situations.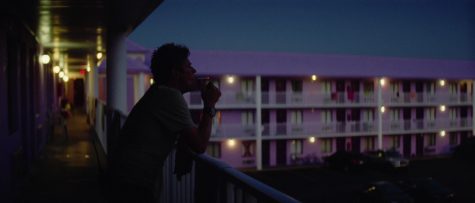 This movie is truly a masterpiece—looking into the world of Moonee from a child's point of view, showing the horrible poverty crisis and housing inequities. Willem Dafoe became an advocate for a world he did not know; people struggling to find a permanent place to live. Dafoe said, "It sets a way of living that is precarious and makes them very vulnerable."

"
It sets a way of living that is precarious and makes them very vulnerable."
— Willem Dafoe
     Director Sean Baker was having a tough time casting Halley because he wanted the character to feel real. Bria Vinaite, a first-time actress, was discovered and perfect for the role. The incredible young actress Brooklyn Prince did an astonishing job showing Moonee's plight even at her youthful age. "The Florida Project" has the feel of a documentary and is more like a peek into the world of a struggling mother and her child, opening the audiences' eyes to a hidden crisis that is not only happening in Florida but all over America; even right here in Frederick. The rawness of this film is unmatched.
 If "The Florida Project" or this article opens your eyes to the housing crisis, please visit the Ship Frederick website and try to help spread awareness of this.