Many hear football and think of the traditional American, male dominant sport. Many girls dream of playing football but lack the opportunity to. Frederick County Public Schools (FCPS) made many young girls Bella and the Bulldogs dreams come true. Partnered with the Baltimore Ravens, FCPS created the first countywide girls flag football league, allowing every school in Frederick county to have a fully funded flag football team.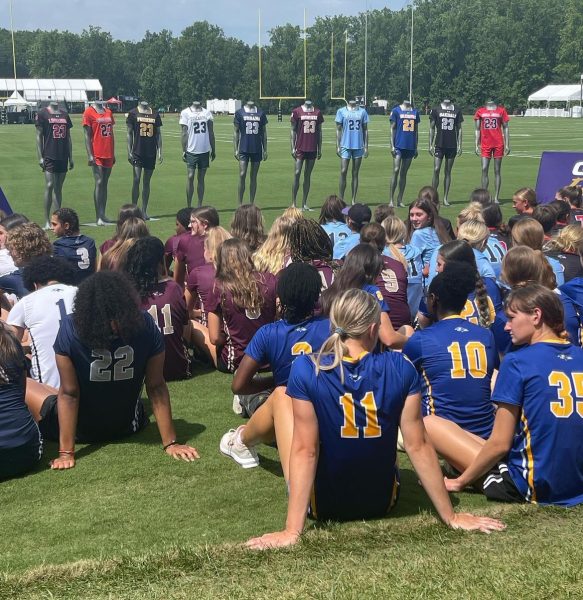 Flag football originally had a "soft launch" in Frederick County last school year (2022-2023) but only Urbana, Oakdale, and Frederick had teams, student created and unaffiliated with FCPS. While FCPS had interred in the new program, the MPSSAA claimed they could not fund a whole new sport.
That statement inspired Under Armour and the Baltimore Ravens to take action, agreeing to fully fund FCPS flag football for three years. They donated $250,000 funding coaches salaries and all necessary equipment. 
Almost 400 girls in the county joined their school's flag football team. Kicking off the season with a celebration at the Under Armour Performance Center where the girls received their custom uniforms, met with Ravens players and coaches, and discussed the impact these pioneer teams will have on future generations of female athletes.
The season began with a packed schedule. After learning about the sport and how to play, these girls put on their flags and played intense games every Wednesday night. Urbana took the #1 seed going undefeated all season. 
After a season full of record setting games all ten schools gathered at Under Armour brand new venu for the first ever Maryland flag football state championship. The evening began with Urbana having a 26-6 win over Thomas Johnson High School. In game #2 Middletown beat Linganore 18-0. 
It was then down to Urbana and Middletown as they battled it out to see who would be the first ever FCPS girls flag football state champion. This was a tough game as both Middletown and Urbana's teams were stacked with some great female athletes.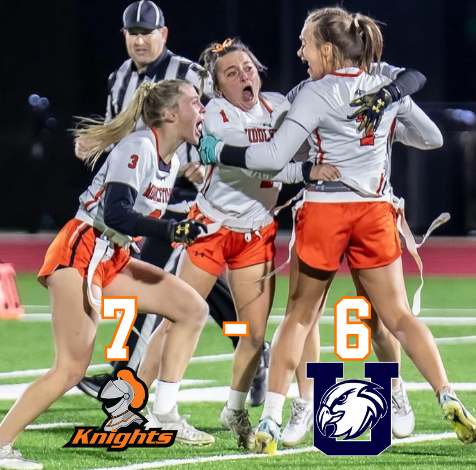 The intensity continued as the game went into double overtime, just for Middletwon to take home the win (7-6). 
Middletown senior and running back Ava Allen (7) says, "I thought it would be fun to play [flag football] my senior year, I thought I could be decent because I'm fast. I really liked the team aspect and how similar it was to regular football. It was so cool to be able to learn a brand new sport."
When asked about the big states win, Allen said, "It's been really cool with the amount of coverage we've been receiving for the win. It is also such a surreal feeling knowing ill be able to tell my kids about this in the future, being able to say I was on the first ever team to win [the girls' flag football championship] in the state of Maryland."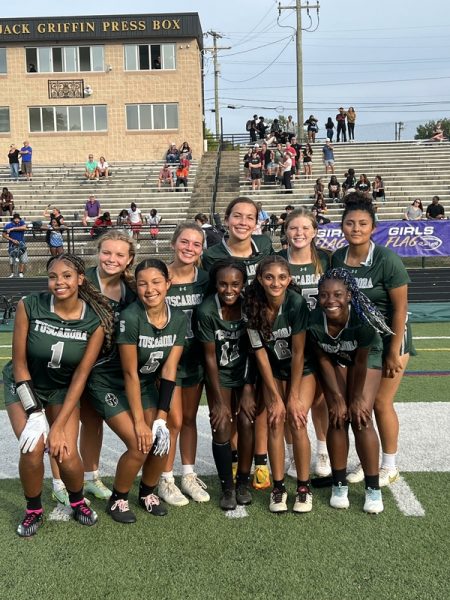 Tuscarora High School had a successful season as well, Coach Vaughan says, "For our first year, our team did very well! Overall, we went 5-3. We began with a summer skills week where we only had about ten girls come out every day to learn the skills needed to excel in football; however, by the time tryouts rolled around, we ended up having around 25 girls for the team. We were able to split into an A team and a B team (although both teams technically played the varsity sport) which allowed for more of our girls to play in each of the games. I'm looking forward to next year and building off of what we all learned this past season!"
Brunswick High School teacher, coach, and former flag football player says, "It was such a great experience as a coach and as a former player in co-ed flag football leagues. Growing up, I was always interested in playing football, and I would have loved to have this opportunity when I was in school. Getting to see a dedicated group of girls put in so much hard work to learn a brand new sport while balancing all of the other demands of high school was so inspiring. Every day was a new challenge, because the coaches were learning right alongside the girls, especially when it came to new rules or plays we were implementing."
Many wonder what the future holds for girls' flag football. Vaughan says, "I, 100% believe that it will expand throughout the state. Girls' flag football is currently the fastest growing sport for high school. There are eight states that offer flag as a varsity sport with eighteen other states running pilot programs. Many NFL teams are partnering with counties and providing funding and start-up instruction for the sport. With the level of support being offered, along with the sheer number of girls that want to participate across the country, I think flag will be around for years to come and will be wildly popular."
FCPS was very lucky to kick start this amazing program, letting many local female athletes live their dreams and defy stereotypes!