A Heifer To Remember
The Great Frederick Fair Longhorn Show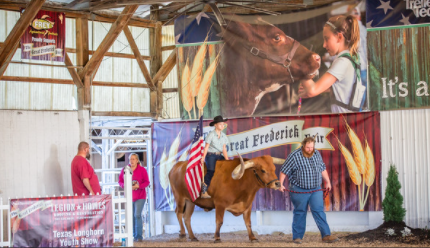 A BRIEF HISTORY: 
Texas Longhorns go back to the late 1400s. Cattle were not indigenous to North America, but were introduced by gold-seeking Spanish conquistadors. Longhorn cattle have made it through rough conditions in which no other cattle have survived.
DID YOU KNOW?—
That Longhorns live around 20-25 years
SHOWING:
Last week on Thursday, September 23rd, The Great Frederick Fair held a Texas Longhorn show through youth class and open class. At 9:45, the show started with youth showmanship, this is where the exhibitor is judged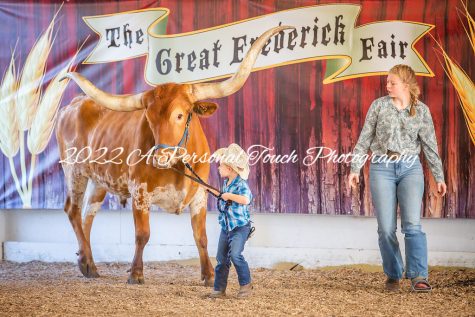 on the exhibitors knowledge of their animal and how they care for their animal in the show ring. This includes eye contact, switching positions, how quick they square up the feat, and how they keep calm when working with the animal. The youth exhibitors were split into their age categories. Starting with the pee wee class (these are exhibitors under 8 years old) Robert Noecker with his cow Snap, entered the show ring walking a little over two month old steer that was more than tame for Robert. With only assistance a few times from Mckenzie Oswald, Robert went on to set up his steer and keep him calm all by himself.
SHOWING QUALITIES
"
History shows through the horns."
— Lizz Huntzberry
When a judge is judging a longhorn they are especially looking at the horns and markings on the animals. Lizz Huntzbeery was judging youth exhibitors' cattle that morning while teaching the crowd what she looks for in cattle other than the horns and markings. She looks for their bone structure and quality as well as the fleshiness of the brisket, the broadness of the loin, along with many other qualities. Overall when judging Lizz Huntzberry looks for the horn growth, varied color and structure.
HORN CONTEST
The most important contest for a longhorn is the Horn Showcase. The TLBAA (Texas Lo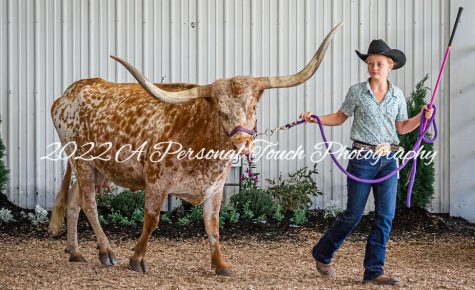 nghorn Breeders Association of America) allows longhorn breeders all across the country to enter their longhorns into The Horn Showcase. With numerous showing, educational and marketing opportunities for Texas Longhorn breeders and owners. It also allows breeders to show off their longhorn horns! Here they enter a measuring contest and see how your animals match up with others across the country. On October 13-15, 2022, there will be a show to see who's longhorn has the longest horns. It's a show you don't want to miss! 
View Comments (2)
Donate to Garnet & Gold Gazette
Your donation will support the student journalists of Brunswick High School. Your contribution will allow us to purchase equipment and cover our annual website hosting costs.
About the Contributor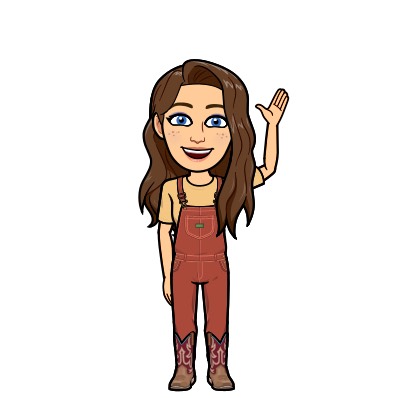 Mia McGuffin, Engineer
Mia McGuffin, Engineer
Journalism I
Journalism Club