Mrs. Korzenowski Advocate For Student Health
"An apple a day keeps the doctor away, but not the therapist."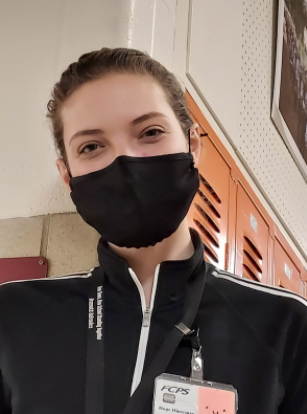 "Mental health, one week? No, it will be two."
Hope Korzenowski is one of the student favorites at Brunswick High School. She is one of the health teachers here at Brunswick. Living in Maryland—all her life—she never got bored of her surroundings. Her career decisions changed constantly, from wanting to be an art major to nursing. She definitely has a lot of passions and talents. One of them is teaching children about health. Which is why she is here at Brunswick, to leave a heartwarming impression and change Brunswick for the better. 
Mrs. K graduated from Frances Scott Key High School, and after that she went to community college and did general studies, then eventually went to Towson University with a focus on Health Education. 
Her favorite subject in school was BioMed, she liked doing the labs and dissecting animals, she viewed those labs as very informative. Mrs. K at first wasn't sure what she wanted to do. Her parents wanted her to be a nurse, but she was still undecided. She went to Carroll Community College and majored in nursing for about a year and decided she hated it. Soon after her uncle passed away and she decided she wanted to… "become the person she needed in high school." 
And she wanted to try to inspire students in the subject of health.
Ms. K has always had a passion for art and teaching. She focused on making a change to the current school system America provides. 
She advocates allowing children to take a break and allow them to have some freedom from what the system provides. "Mental health was only a week long [in the curriculum]. I said no, it's going to be two." 
She is a strong believer in mental health, mainly because she has had her fair share of problems in her own high school life. 
Her uncle was a big part of her life, after he suddenly passed, Ms. K has made it her goal to help those who are struggling mentally, and physically. 
Like her uncle, art is a big part of Ms. K's life; she uses it to express her feelings, to grieve, and enjoy distractions. She initially wanted to become an art teacher but the impact of her uncle's death changed her mind. 
One of the reasons she ended up working at Brunswick was because she loved small schools where she felt she could really make an impact: "big schools can be scary and it's hard to actually feel like you're helping anyone."  It's safe to say her minor changes have made a big difference in her students' lives and the Brunswick community.
Leave a Comment
Donate to Garnet & Gold Gazette
Your donation will support the student journalists of Brunswick High School. Your contribution will allow us to purchase equipment and cover our annual website hosting costs.