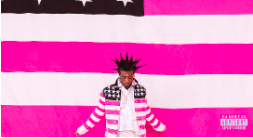 On March 6th, 2020, Lil Uzi Vert dropped Eternal Atake and Eternal Atake deluxe. It was long awaited after Luv is Rage 2 in 2017 and it did not disappoint. It was the most hyped album of the year and still to this day my favorite rap album of all time. This new album had been hinted at for years and everyone was waiting for it even if they were not a fan of Uzi. Unfortunately this was not what everyone was expecting because three years later, June 30th, 2023, Lil Uzi Vert finally dropped Pink Tape and people are not too happy.
First, Uzi hinting at this album for years got people hyped but also got people annoyed that it took another 3 years for him to drop a project. We had the Red and White EP and some singles but no album. Having to wait so long, everyone's expectations were really high and expected it to be as good if not better than Eternal Atake. In the 3 years in between Eternal Atake and Pink Tape, Lil Uzi changed up his style from rap to more of a rock/rap. Obviously all of the rap fans didn't like that too much and started to hate on Uzi and lost all their hope for Pink Tape being good. But all of the Uzi fans were still supporting and didn't really care as long as Uzi was making the music he wanted.
A few weeks, days and even hours before Pink Tape dropped, A trailer, the album cover and the tracklist was shown to the public. The trailer was like a cinematic short little movie with some songs from the album playing in the background, it got everyone really pumped to see what was coming. The same day as the trailer dropped, the album cover did too, and unlike the trailer, people were not liking this. They thought it was bad and looked like someone just drew this the day of. A fan group chat that Uzi was in started telling him to change it and make it something else with the same style, so thats what he did, a whole new album cover was made. Then a few days later and a few hours before Pink Tape dropped, the tracklist was revealed. Everyone was expecting Carti and Kanye, And even Destroy lonely or Ken Carson to be on it. None of them were featured on the album and people were really disappointed.
Pink tape finally dropped, and at first everyone was really hyped because the first song had more of an old Uzi vibe to it. But as the album progressed, it started to show some of the new rock style of Uzi. The songs aren't bad, and a lot of them are really good, but Uzi is a rapper, not a rockstar. So it was very unexpected for there to be heavy metal on the same album as a song that had been made the same time as Eternal Atake. 26 song album is a really big album, most rappers have around 9-16 with a few features. Having 26 songs made it so he can have a good equal balance of new Uzi and old Uzi, and I feel like most people don't understand that if you don't like new Uzi just listen to the old styled Uzi songs.
I see a lot of people hating and a lot of people loving this album. My personal opinion is that its really good and probably my top 3 from Uzi. Lil Uzi said this is the type of music he wants to make and I don't mind it because I'm really open about my music taste. Out of 26 songs, I have been actively listening to 24 of them, so I would say this is atleast an 8/10 maybe higher because the songs I'm not listening to aren't bad, just not something I'm too into. Since this album dropped it has been expected to be Album of the year and sell more than 125k first week, and got to #11 spot for a rap album with the most opening day streams in Spotify history. even if people don't like some of the songs, its Lil Uzi and he's one of the most popular rappers in the world. Im very excited to see what Uzi does next since he said he wont be dropping a Pink Tape Deluxe he will be dropping a whole different album. No matter what Uzi does from here, I will be a supportive fan and I'll look foRward to any music he drops.
Old cover: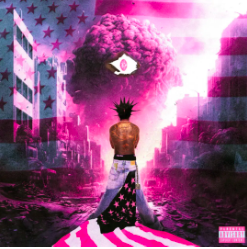 New cover: