Brunswick volleyball breaks boundaries of a mere sports team; it's a tight-knit group of girls bound by friendship and a sense of family.
Despite facing challenging seasons, the team's unwavering spirit perseveres; demonstrating their commitment to giving their all and celebrating even the smallest victories. On Tuesday, October 3, Brunswick's volleyball program hosted their annual Dig Pink game — a poignant event dedicated to raising awareness for breast cancer.
The Dig Pink game isn't just a match — it's a town-wide event that unites the entire community. Every year, the volleyball team selects distinct themes for home their games. Dig Pink is easily their most significant one. Fundraising takes center stage during this event, with proceeds benefiting the Frederick county breast cancer ward. Many parents of players volunteered their time to sell tickets for a 50/50 raffle — contributing to breast cancer research. Additionally, parents of players set up tables with baked goods and various items, all aimed at collecting funds for the cancer ward.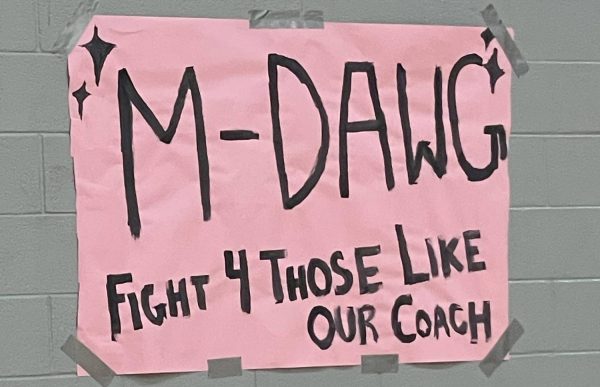 Coach Michelle Sclater, mother to number 17 on the team, addresses the deeply personal connection many have to this event. She is not only a breast cancer survivor, but she is also currently in remission. Her presence as a coach and survivor injects a profound sense of purpose into the event — inspiring the girls to elevate their game beyond the ordinary. 
Number 17, Bailey Sclater, says, "My mom is a breast cancer survivor, but besides the fact I think it's so much fun. I love decorating [for] this fundraiser and I think that it's such a good night, and I love all the people that come out and support."
These girls exemplify the definition of an unrelated family. Each year, the team comes together, putting aside all other distractions to shine a spotlight on a cause that holds global importance. Beyond their athletic abilities, they are a testament to the power of unity, determination, and their unwavering commitment to making a difference in the fight against breast cancer.
I am playing for my grandmother who battled breast cancer, and my aunt who is currently battling cancer."
— Kayla Larco, Junior
Number 15, Kayla Larco, says she is not only plays with passion for her coach, but, "I am playing for my grandmother who battled breast cancer, and my aunt who is currently battling cancer."
This game meant so much to each girl that stepped on the court on October 3. Thank you to everyone in our community who showed up to support breast cancer through our volleyball team.