Formula 1 Under Fire For War Involving Russia and Ukraine
Formula 1 Cancels Russian GP And Russian HAAS Driver Is Dropped
The war on Russia and Ukraine has sparked controversy all across the world. It's affecting more than just your big political parties, it also affects sports—in this case Formula 1. Formula 1 has terminated  their contract with Russia to host the Russian GP. This means Formula 1 does not plan on hosting a race in Russia for 2022 and years to come. The contract was originally signed in 2014, and was planned to extend through 2025 for Formula 1 to race at the Sochi Autodrom, located in Krasnodar Krai, Russia. Russian president, Vladimir Putin, was seen handing out trophies for the podium finishers in the 2014 and 2015 Russian GP. However, due to conflicts with Russia and Ukraine, F1 is no longer racing in Russia.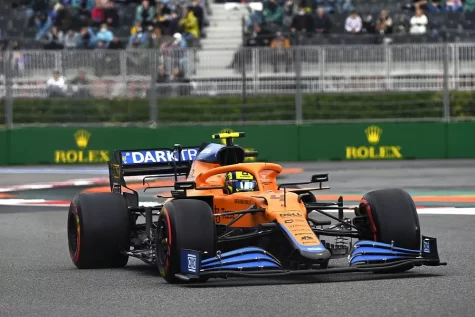 For it's eight year run, the Russian GP has hosted a variety of Formula 1 races, some better than others. The most recent being the 2021 Russian GP where McLaren driver, Lando Norris, scored his first pole position after a rainy Q3 or qualifying session. Lando would go on to lead most of the race with title contender Lewis Hamilton, driver of the #44 Mercedes AMG Petronas F1 Team chasing him down in second. However, late in the race the rain started to fall on the track, making the track slick and undriveable in some areas. Lewis went into the pits to get wet tires while Lando stayed out on slicks thinking the rain would hold out till the end of the race. The rain continued to fall at a faster and harder pace than ever forcing Lando to eventually lose his position to Lewis. Lewis would go on to win the race while the heartbroken Lando Norris would finish P7 with Red Bull driver and eventual drivers champion Max Verstappen finishing P2 and Ferrari driver Carlos Sainz finishing P3. This race would go down in History for Mercedes driver Lewis Hamilton, achieving his 100th win in Formula 1, the first and currently only driver to reach this milestone. 
While Russia is home to a solid Grand Prix track for Formula 1 as well as other racing series such as Formula 2 and various drifting races, Russia is currently under fire for invading its neighboring country Ukraine. A big cause for this invasion was Ukraine wanting to break away from Russia and ally more with Europe and NATO. Tensions grew between Moscow and Kyiv before finally snapping, and on February 24, 2022, Russia began their invasion of Ukraine. This sparked a war between the two nations despite Ukraine having a smaller and weaker army than Russia. The battle between Russia and Ukraine has been raging on ever since and as of now shows no sign of stopping. Only time will tell what the future of Ukraine will be and how the rest of the world will view Russia as a nation.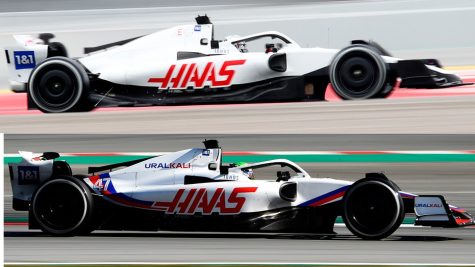 What does this mean for racing in Russia? As of now Formula 1 has terminated their contract with Russia to host the Russian GP. Formula 1 made the announcement on Thursday, March 3, 2022 claiming, "it is impossible to hold the Russian Grand Prix in 2022 in the current circumstances." Formula 1 does not want to be affiliated with a nation in the process of war. Fearing the danger for it's drivers, fans, and reputations. One of the current Formula 1 drivers, Nakita Mazepin, driver of the  #9 HAAS F1 team, is currently under fire for being a Russian native. His Dad, Dmitry Mazepin, has close affiliation to Russian president Vladimir Putin, causing more controversy for the driver. HAAS's primary sponsor, UralKali, a popular potash fertilizer company for Moscow and other parts of Russia, has been dropped by HAAS. In the last day of preseason testing, HAAS ran a blank white car only featuring the HAAS logo on the side versus their traditional car featuring Uralkali logos as well as a Russian color scheme. This isn't the only controversial thing surrounding HAAS.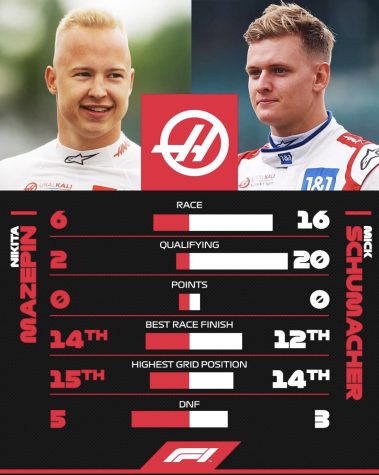 On Saturday, March 5, 2022, Formula 1 and the HAAS Formula 1 team announced Russian driver Nakita Mazepin will not be driving for the 2022 season for HAAS. This also saw the full termination of the Uralkali sponsor. As of March 9, HAAS announced that former HAAS driver Kevin Magnussen would take his place. Formula 1 does not want to be affiliated with a driver/sponsor from a nation with so much recent controversy. This leaves Mazepin out of a seat for the 2022 season and possibly forever. For his 2021 stint in Formula 1, Mazepin had nothing much to show for it. Mazepin only out qualified teammate Mick Schumacher, son of the legendary Michael Schumacher, twice in the '22 race season and beat him in through the course of a race six times versus Schumacher's sixteen times (as shown in the image to the right). Mazepin also had more DNFs or did not finishes, than Mick, not something you want as a driver. Mazepin was considered the worst driver on the grid, whether that was true or not is up for debate especially considering Mazepin had arguably the worst car on the grid at least when it came to points finishes. Fans were unhappy to see Mazepin leave but happy to see hopefully a better driver take his place.
The far future for Russia and Formula 1, as far as races and drivers go is still uncertain but the near future is a guarantee. With all the controversy surrounding Russia, Formula 1 wants no part of it. They want their drivers and fans alike to be safe. While the decision may be controversial especially to Russian fans, Formula 1 feels it is the right decision at least for the near future. 
Leave a Comment
About the Contributor
Murphy Nichols, Engineer