LGBTQ+ Problems = Never A Joke
April First May Be A Day Of Joking, But This Was Never A Prank
April 1st, 2022—A protest starts in the United States.
Students in 241 schools across 45 states perform a walkout protest, carrying pride flags and posters against anti-LGBTQ bills that are being introduced and passed in state legislatures.
Hundreds—if not thousands—of students walked out that day, and protested. They did their best to show that they were there and that these bills were effecting them, and they have done their job to touch people who weren't even involved in the protest.
Now that the protest has passed, it might make you wonder how it came into fruition. Well, it started with a TikTok posted on a relatively small account by the name of "aidyn_speaks", or "Aidyniscool." On March 12th, a video was posted onto their account with the caption "I really want to see this happen." In this video Aidyn talked about attempting to start something potentially big, that being a national walkout against the many anti-LGBTQ bills that have been introduced and passed in the past two years. They announced a set date and introduced a discord server, one which played a large role in the organization of the walkout. On March 14, 2022, I became a member of this server after being invited.
"The owner, Aidyn, posted on her TikTok, that was relatively small at the time, about a walkout they were going to do. Then it eventually led to a nation wide thing. [I don't know] the progress from just her to nation wide though. You might want to find her original TikTok." —Rose, a mod on the discord server
As of April 6, 2022, the server has a total of 1,593 members and is well organized, functional, and a place where support is found. Throughout the month leading up to the walkout, this discord server could be said to be the center of the planning, with updates on schools participating, talk of the day of the walkout, and, in the end, circulation of photos and scenes from the walkout.
Now, what is this protest about? What is it for? How did you even organize? Well, lets thank Aidyn for answering these questions. In the discord server, one of the first things you might read would be in a channel titled "-faq-?" that elaborates on those questions.
When will the walkout happen?

 The walkout is scheduled for Friday, April 1st, 2022. The goal time is 10:40-11:10 AM PST. But due to varying time zones across the nation, the walkout can take place whenever an individual organizer feels best.

 What is the walkout for?

The walkout is in protest of the hundreds of anti-LGBTQ bills that have been both introduced and passed in state legislatures. Some examples include: The "Don't Say Gay" bill in Florida, HB 675 in Idaho which would put doctors in prison for life for providing gender affirming care to minors, and Texas allowing random people to call CPS on trans minors, just to state a few.

 How do I organize?

Try to get in contact with your Gay-Straight Alliance (GSA) is the school has one. GSA is a club meant to be a safe space and advocacy group for LGBTQ+ students. They would be more than willing to help. Try to also spread the walkout as much as possible on social media. This will make more people aware of it. If you have enough people who know about it, it will work.
This protest is about the hundreds of anti-LGBTQ bills that have been both introduced and passed in state legislatures. In 2018, there were 41 anti-LGBTQ bills filed; but, there have been 238 anti-LGBTQ bills filed in less than three months of this year of 2022. This is a very large increase with bills mostly targeting those who are trans. It is calculated that from 2018 to now nearly 670 anti-LGBTQ bills have been filed, nearly all 50 state legislatures having weighed at least one of these bills. This is a shocking number that only seems to promise to rise in following years if this trend continues,which, hopefully, it will not.
"
In 2018, there were 41 anti-LGBTQ bills filed; but, there have been 238 anti-LGBTQ bills filed in less than three months of this year of 2022."
Lets take a look at a bill that failed to pass last year, and a bill that is currently trying to pass. 
Bill 1— "Transitioning is child abuse"
April of 2021 brought a bill to the Texas Senate that would, in the words of NBC News, "redefine child abuse to include administering, supplying, or consenting to provide puberty suppression drugs, hormone replacement therapy, or surgical or medical procedures to anyone under 18 for the purpose of gender transitioning or gender reassignment […] The measure would make such acts a felony, alongside physical and sexual abuse and sex trafficking, although it carves out an exception for surgical procedures for intersex children." Parents who violated the proposed law could have possibly faced two to ten years in prison, as well as have their child put in foster care. Fortunately, the bill did not pass.
Bill 2— "Don't Say Gay"
Though I am not in support of the bill, I must say that, in fairness, the representation of the bill is a bit off. This bill, as a whole, is not meant to wholly prohibit sexuality and gender as a subject, more the teaching and discussion of sexuality and gender identity in certain grade levels, or discussion and teaching of these subjects in a manner not appropriate to age or developmental level. What this means is that teachers are not able to bring up topics of sexual orientation, gender identity, and/or discussions which can be perceived as age-inappropriate into a classroom environment or into the curriculum through kindergarten to third grade. Sure, there may not exactly be a sure ability to say "gay" but, opposing views cannot be shared or taught either (ie, "Oh, homosexuality is a sin", "Being trans is not natural", all of those basic arguments put up without any backing). It is not without benefits in that simple factor.
A reporter for the Baylor Lariat, a Baylor University student newspaper, puts the misunderstanding well: "The title 'Don't Say Gay' is misleading. The bill isn't telling you to support, or not support, the LGBTQ+ community. The whole focus of the legislation is to leave political agendas out of the classroom and in the hands of the students' parents." It can be said that the title the bill has gained isn't quite a fair title—this bill has a larger focus on parental rights, more so than LGBTQ+ rights. Another, longer excerpt from the Baylor Lariat article: "Any quick search for "Don't Say Gay" bill, and you can find countless articles from dominant news outlets using the title as if that is the actual name of the bill. That isn't fair journalism, but it happens all the time from both sides. Whether the terminology is accurate or not, it's completely irresponsible of news outlets to use a title so obviously politically driven." Just give a thought before taking a stance on the bill if you have not read the actual bill and have not come to an understanding of what it is meant to do—not every news outlet or form of journalism, reports factual information about the legistation.
"
The title 'Don't Say Gay' is misleading. The bill isn't telling you to support, or not support, the LGBTQ+ community. The whole focus of the legislation is to leave political agendas out of the classroom and in the hands of the students' parents."
— Baylor Lariat
These bills, the legislation, are the reason why the protest happened. They are major factors in the development of this walkout, major problems for the community which we likely wouldn't get a voice in about. Seems a bit unfair, passing bills and all that against those in a community who don't have many big representatives—they had to become their own representatives. 
Think now about this protest again, nationwide, in 45 out of the 50 states, 241 out of the over 100,000 schools in the United States. It can seem to be a small number when seeing the whole picture, but a small number is still a number. The community may not be the largest out there, but it is still a community. People still came out to protest, showed that they were a part of a larger community. They showed that they were human, and that they did not deserve to have such bills passed against them.
So the protest began.
°°°°°°°°°°°°°°°°°°°°°°°°°°°°°°°°°°°°°°°°°°°°
There were many moments captured of the protest, but here are a few of the pictures that touched me the most.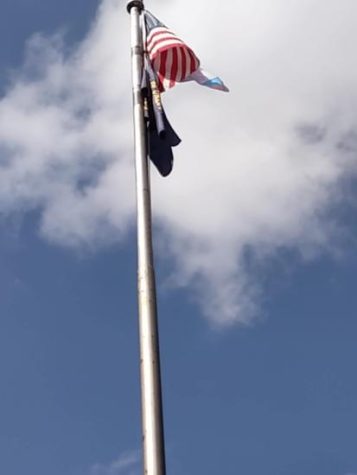 This first photo was taken in Portland, Oregon, in the David Douglas School District. The photographer, Adyn Zamrzla, provided insight on why it was there: "They put up a trans flag on the flagpole. Some kid tried to stop them, then they did it again."  Now, before anyone says anything about the levels of the flags, I would like to clarify that the Trans and American flags were at the same level. The trans flag is not above the American flag. This photo is quite touching to me, in ways I can't even understand enough to share. There's just something about the determination and perseverance it took to put that flag up, I'd say. Maybe that is why it touches me so deeply.
Thank you for your contribution, Adyn Zamrzla.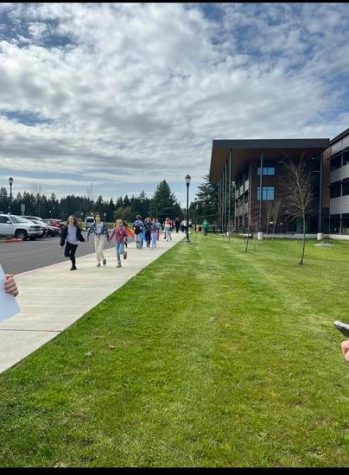 These three photos were all taken by the same person, Zoey, in Washington state.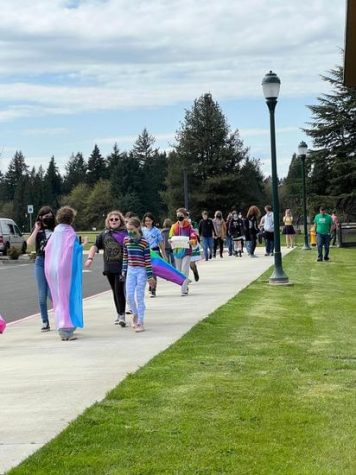 They were one of the organizers of the event in their school, and got a surprising turnout despite not being allowed to use announcements or posters to promote the walkout, the information spreading through word of mouth.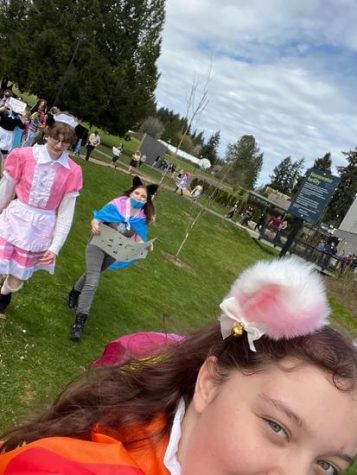 It's amazing how well word of the protest spread there.
Thank you for your contribution, Zoey.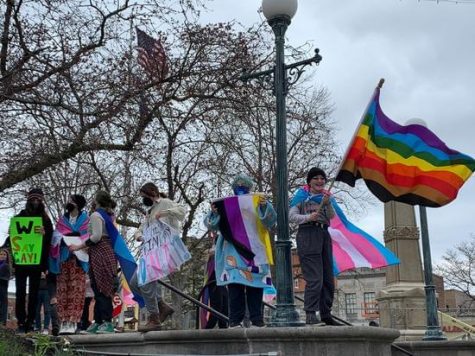 Now we come to what is one of the last photos, taken in Indiana by Violet. Now, I personally love this photo. Look at all the flags! Look at how proud they look! Enjoy that angle! It's touching, and it truly is a lovely picture.
Thank you for your contribution, Violet.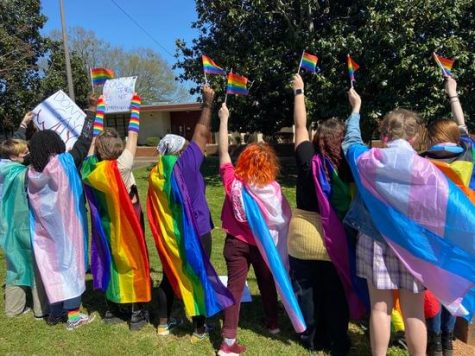 Lets end the montage with what has to be my personal favorite. This picture was taken at Dekalb School of the Arts, which is in Georgia. This photo is truly inspirational and touching to me, personally, everyone looks so proud and I'm glad.
Thank you for your contribution, Dekalb School of the Arts.
Truly inspiring photos, and a truly inspiring event. I think that, even if you didn't participate in the walkout, keep in mind what the goals were. Even if you might not agree with the goals, think about them a bit, so you can try and understand those goals. Just remember that this protest was not without purpose. It came to fruition because of an idea, simple as that. Lets look how far this idea has come, and lets hope it'll continue to go far—it's supposed to be a yearly event, afterall. We can only hope now that it makes a needed change happen.
Leave a Comment
About the Contributor
Elizabeth Bailey, Engineer
Elizabeth Bailey, Engineer