Who Will 'Bee' The Winner?
BHStage Presents: The 25th Annual Putnam County Spelling Bee!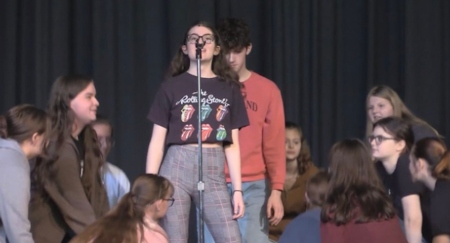 On March 9, 10, 11 members of the Brunswick High School Drama Department will be competing for first prize at The 25th Annual Putnam County Spelling Bee!
Based on the book of the same name written by Rachel Sheinkin, William Finn composed a Tony Award winning musical comedy about six eager spellers, two administrators, an ex-convict, Jesus Christ, spelling, and audience members- like you!
Meeting almost everyday for over three months, students have been rehearsing to bring this show to life. "The great thing about Spelling Bee is that it does have all of this improvisation, comedic timing that's being addressed here but it does so in a lighthearted fun manner." Ms. Peterson shares. As an actor in the department, it's always so wonderful to work with such a talented group of people who share the same passion for performing. Seeing a new genre of theater grace the stage really showcases the versatility of Brunswick High School performers which will be a breath of fresh air for incoming audience members.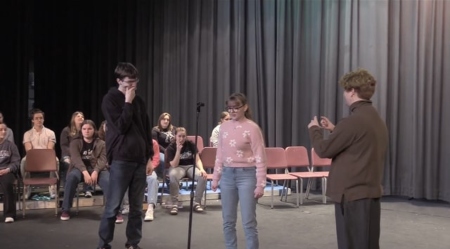 For the first time since Mamma Mia! closed before opening due to COVID-19 in 2020, BHStage is bringing live music back to the theater! Putting things in perspective, this is the first time in over a decade that the drama department has put on a performance with a live pit. The music director, Mr. Fowle has been running bi-weekly rehearsals with a group of six very talented musicians to prepare the lively score of William Finn. When asked about the decision of using a live pit, Mr. Fowle explains, "It's always been something we've wanted to do… with a live pit it gives a lot more flexibility… and have it a be much more organic performance." 
*Along with the excellent actors on stage, we will be asking for audience members to volunteer to come on stage- giving you the chance to be the winner of The 25th Annual Putnam County Spelling Bee! Sign ups will be at the door during ticket sales before each show.

Online tickets being sold at: https://www.showtix4u.com/event-details/71531
Leave a Comment
About the Writer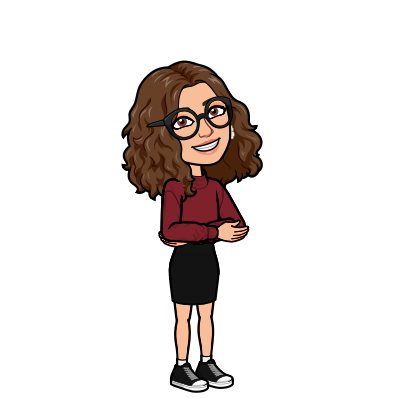 Jasmine Ling, Engineer
Jasmine Ling, Engineer
Journalism I