Who Is Mrs. Mangold?
Why Everyone Should Take An Art Class
Every student at Brunswick High is required to have atleast one art credit to graduate. If you're not interested in theatre, orchestra, band, or photography, I suggest taking either Ceramics 1 or Drawing and Painting!  There you'll meet Mrs. Mangold.
Mrs. Mangold is one of Brunswick High's art teachers, she is located in the 600 building in room 606 and teaches all levels of the ceramics courses, and all levels of drawing and painting.
Mrs. Mangold has stayed local throughout her life, as she graduated from Middletown High School, went to Frederick Community College (FCC) for her associates degree, and then transferred to the University of Maryland after a year and a half. She took a five year bachelors/masters program where she got her bachelors degree in studio art, and her masters in education curriculum and instruction.
Mrs. Mangold is the youngest of three: the oldest being her brother, and the middle, her sister.  She is married to her husband Patrick, and together they have a beautiful two year old daughter, Layla, and a Great Pyrenees mix named Tucker. They also have another little girl on the way coming in July!
Mrs. Mangold's absolute favorite thing to do is play with her "munchkin" Layla. She also enjoys gardening but has a love/hate relationship with it because of the weeds and bugs, although being able to grow her own fresh fruits and veggies is worth it.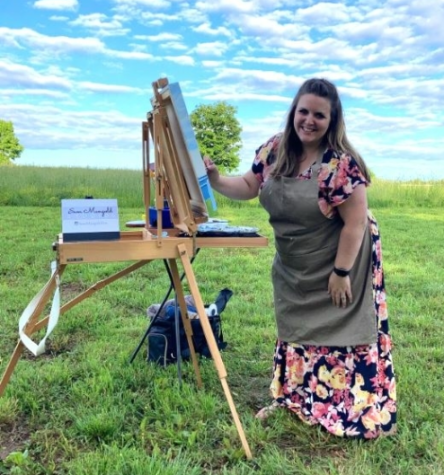 "
I feel like I just started finding confidence in art…"
— Mrs. Mangold
When asked how she decided to become an arts teacher, Mrs. Mangold went back in her memory to when she was in elementary school. Her love of art started when her art teacher chose her project to be displayed on the wall, and shown off to her parents. She was very proud of herself and felt inspired to do more and more art every day at home! When she got to high school, her ceramics teacher influenced her to make the decision that the career path she wanted to take with art was teaching.  She felt like she just started finding her own confidence in art.
Mrs. Mangold's favorite thing about teaching is the students—but more specifically, in ceramics, she loves when her students have that "Ah ha! moment." For example, when they are taught how to wedge the clay, and have her cut it to see if there are any air bubbles, everyone is always worried that theirs will be full of them, but when they aren't they all get super excited and become more confident in their work.  For drawing and painting, she loves when students are able to look back at their artwork at the beginning of the year versus the end of the year, and seeing the progress they make.
Mrs. Mangold was then asked what her least favorite thing about the classes are—she shared how behavior problems really affect the dynamic in the classroom. She doesn't like how it takes time away from everyone else, especially the people who actually want to be in that class and learn, and aren't just there to get the credit. Messing up/ruining materials is also a pet peeve of hers. The materials are expensive and should be treated well for everyone to enjoy.
Mrs. Mangold shared that she has become very close to Mrs. Peterson as they came to Brunswick High the same year. They were able to help each other adjust, and they were able to talk through their experiences and relate to one another. They are teacher besties for sure!
Currently, Mrs. Mangold doesn't have a specific future plan set in place, but she's very interested in regrowing a lot of the programs (such as, National Art Honors Society, and upper level art classes) here since COVID took them down. She plans to get a wheel for her room so her students can learn how to make pottery using different techniques. She would also like to create more of her own artwork out of school and potentially sell it.
"The earth witbout art is just eh." —Demetri Martin
One of Mrs. Mangold's favorite quotes is "The earth witbout art is just eh." —Demetri Martin and it's very true, she says this a lot to students who just aren't interested, but have to take the class. Art is apart of our everyday lives, its everywhere. We are all influenced by art each and every day, so its really important that we understand what it is and how it affects us.
A few things Mrs. Mangold wanted to share about the importance of art classes:
If you take art classes in your early high school years, then you will be able to take upper level classes, and join National Art Honors Society. She really wants to grow that group.
Students who only took one art class in their senior year were sad they couldn't do higher levels because they realized how fun it is, so take art classes in your freshman, sophomore, and junior years!
If those groups grow, they will have more freedom to decorate our school.
For freshmen and sophomores: Don't fill your whole day with academic classes, you need a break in between to be creative and focus on something hands on. Mrs. Mangold believes students burn out fast because they take a bunch of hard academic classes back to back and its draining.
Leave a Comment
About the Contributor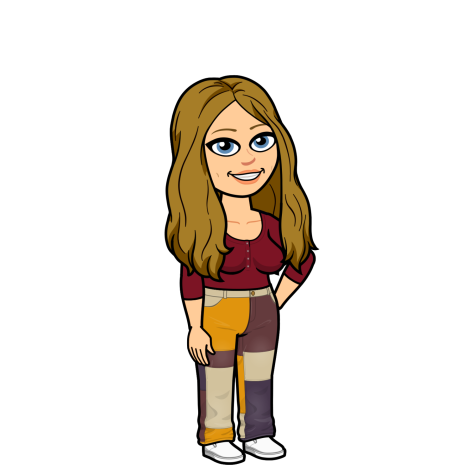 Abby Sharp, Engineer
Abby Sharp, Engineer

Journalism I