Tim Henson Of Polyphia
Polyphia is an innovative and genre-breaking band, consisting of members Tim Henson (lead guitar), Scott LePage (rhythm guitar), Clay Gober (bass), and Clay Aeschliman (drums). They are well known for using many different genres, tropes, lack of vocals, and complex techniques to create a unique blend. They credit their lack of a vocalist to allowing them to be more creative, and to have more diverse artists feature on their music, like "any singer, rapper, metal vocalist, any instrumentalist, any DJ, and producer" (Tim Henson).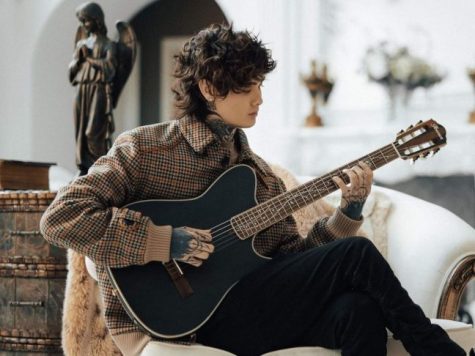 Tim Henson (lead guitarist) started his musical journey on the violin because of his mother. He credits his experience with the violin as giving him the discipline he needed, while still hating the experience. Tim eventually began learning guitar by listening to Black Sabbath, and figuring out how to play their songs on his own. He became obsessed with early rock and heavy metal musicians; like Jimi Hendrix, The Beatles, and Black Sabbath. His music taste shifted over to more emo, and deathcore based, (i.e. Whitechapel), when he entered middle school because of his peers. In high school he maintained a divergent music taste, and continued practicing guitar. During high school, Tim was charged with drug possession twice because he had weed with him. This put him on probation and forced him to stay inside; because of this he spent most of his time playing and practicing guitar.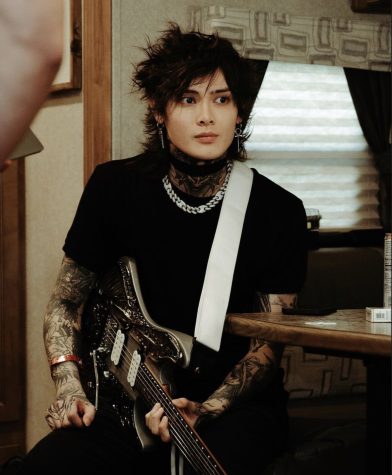 Early on, Polyphia consisted of Tim Henson (lead guitar), Scott LePage (rhythm guitar), Lane Duskin (vocals), Brandon Burkhalter (drums), and later on, Randy Methe (drums). In Polyphia's early formative years, they were much more focused on shredding and blast beats than being as melodic in contrast to their recent work.
Polyphia's discography shows a true progression of musicianship; releasing their first ep Inspire in 2013, independent from a record label, and experiencing "exponential growth". Since then, Polyphia has signed to Equal Vision Records, Inc. and released the Albums Inspire, Renaissance, New Levels New Devils, and Singles LIT, G.O.A.T., and Look But Don't Touch. Later releasing the single Inferno, under Postlude Paradox, and now being signed under Rise Records, Inc.; releasing singles Playing God,  Neurotica, ABC(feat. Sophia Black), and Ego Death (feat. Steve Vai). and Their latest album Remember That You Will Die.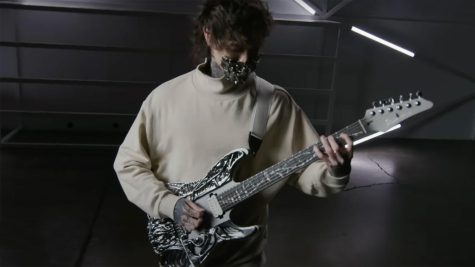 Polyphia has experinced major success in recent times, with songs like "G.O.A.T" received significant critical and commercial success. Their most recent album to date, Remember That You Will Die, received critical and commercial success, with features ranging from Chino Moreno of Deftones and Team Sleep, to Steve Vai. This album has solidified Polyphia as more than a gimmick, and as a band that will stick around to change genres. This is exemplified in songs like "Chimera", "Bloodbath (feat. Chino Moreno)", and "Ego Death (feat. Steve Vai)", with compositions reminiscent of early Spanish flamenco and math rock influence, only to be overtaken by djent, by an 8 string guitar overlayed with elements of trap. Tim Henson credits some of his success to manifestation.
This level of success has led to the release of 3 signature guitars from Tim Henson, and 2 signature guitars from Scott LePage. So far Tim Henson has released 3 signature guitars, the THBB10, the TOD10N, and the TOD10;  and Scott LePage has released the SLM10 and the KRYS10. All of these guitars were produced by Ibanez, who is well known for their high-quality, unique, and innovative guitars. Tim Henson's THBB10 is unique because of its gold hardware, roasted maple neck, and its classic block inlays, and custom DiMarzio Notorious pickups, which are designed to offer the dynamics of vintage single-coil pickups. The TOD10N is a modern nylon acoustic appearing on new Polyphia songs, like "Chimera" and "Playing God", and features a beautiful Tree of Death inlay. Tim Henson's TOD10 features a set of Tim's signature multi-voice Fishman Fluence humbuckers and a Tree of Death inlay. The Tree of Death inlay has become Tim Henson's staple feature for his most recent signature guitars. Scott LePage's SLM10; is unique to his sound featuring Gotoh T1502 tremolo, locking tuners, a roasted maple neck, and True velvet DiMarzio pickups. Scott LePage's KRYS10 features a roasted maple neck, ebony fingerboard, Fishman Fluence Scott LePage humbuckers, and unique illuminated inlays. All of these guitars are modern boundary-pushing guitars, that reflect their creators.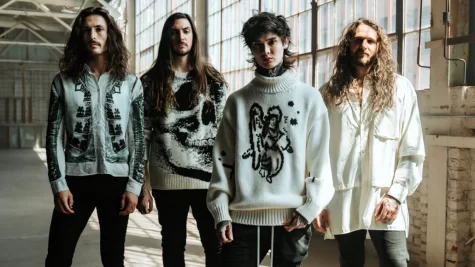 Now Polyphia is headlining their own tour for their latest album, Remember That You Will Die. With locations including Texas, Sydney, and Osaka. With acts like Domi and DJ Beck opening for them. Polyphia will also be appearing at the Aftershock Festival in Sacramento California. Starting as a gimmicky band from Texas, to being about to play a nearly sold-out tour. Polyphia continues to inspire musicians to improve, and to use more modern techniques instead of staying stuck in the past like many other musicians. Polyphia is changing the music scene.
Leave a Comment
Donate to Garnet & Gold Gazette
Your donation will support the student journalists of Brunswick High School. Your contribution will allow us to purchase equipment and cover our annual website hosting costs.
About the Contributors
MJ King, Engineer
MJ King, Engineer
Journalism I
Journalism Club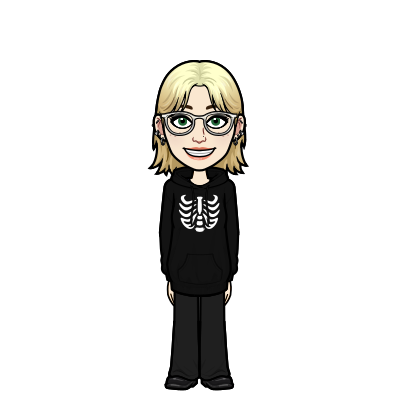 Luke Lusk, Engineer
Luke Lusk, Engineer
Journalism I