The Frederick Rock School And It's Influence on Brunswick
Center For Outcasted Students Looking to Jam Out
The Let There Be Rock School is a program that was founded in Maryland, but is in multiple states across the USA. There are six locations currently,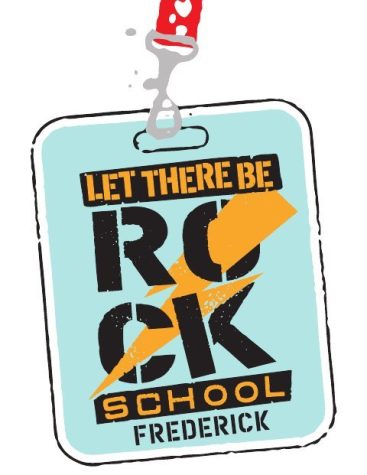 Maryland, Pennsylvania, Texas, West Virginia, California, and Georgia. The school offers 5 programs at different price ranges. The All Access VIP program at $200 a month includes once a week 30 minute private practice with an instructor and 90 minute sessions with your own band. The student would learn music theory and be included in a band with a supervisor there for guidance or assistance. The student will also have opportunities to see guest speakers, participate in workshops, and just have full access to chill around the school. Other programs include the Join a Band program, the Audio Recording program, and a Video production program!
The one we are focusing on today is the Frederick location. The school includes students from all across Frederick and nearby counties with an estimate of 30-50 attending our very own Brunswick Schools. 
First though, let's look into the origins of the school! The owner/current director, Scott Marceron and his wife, had the idea to start this school almost ten years ago and officially started the school in January of 2009—Scott states in both our interview and the Frederick News Post news interview. Although even before that, Scott had a long-term love for rock music. He grew up in Brunswick and even went to Brunswick High School, but he got all of his inspiration from his older brother Richie. From his Frederick interview, Scott states "He was the only punk rock kid at Brunswick High School." In the 80s—compared to other students—he stood out and had a hard time finding places to see shows. He would go into Baltimore and DC often to see shows; and would also bring back records that both him and Scott would listen to. His parents weren't into rock but were still music lovers. Growing up around music all the time gave Scott a fondness of the art.
After his brother Richie died from leukemia, Scott just clung onto music more. When he got older he started getting into that rock music he grew up with and started his first band. Scott says "we sounded terrible," he still remembers just trying to have fun with it. When it comes to his second band though, he had some hope for a legit music career.
That was when they first started recording, but as they grew the band had a difficult time finding places to rehearse. At the time, there weren't many areas to rehearse and barely any places to play shows. Scott ended up convincing a roller rink owner into letting him open up a club in the basement of the rink. He then would set up a stage for his band and others to play on. At only 14, Scott's band was bringing in up to 300 people at their shows and he would make some money from it too. For almost half a year, Scott was bringing in tons of people to these shows until it was sadly shut down. Scott, even after this bump in the road, continued to pursue this path.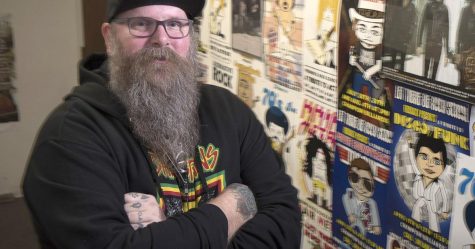 As Scott continued playing he met a woman, Kela (his now wife), in a music class at FCC; it was an immediate click. While Scott was infatuated with her love for the same music, Kela was quite impressed with Scott's career. Scott's band was actually touring around that time and Kela says "All he would talk about was music." Kela was dancing in DC most of the time but the couple still found ways to connect. Scott played bass in a band called Shaft, and landed a record deal, although it wasn't the best. The deal would get them to open for popular bands like Limp Bizkit and Pantera. While the band was traveling, Scott would write songs and manage which he would find to have a thing for. In 2000, Shaft plateaued and that was that. Scott states "There's a time when you know."
Shaft's band manager could see Scott going somewhere with management and connected him with Uppercut management. After this opportunity, Scott decided it was time to switch into a more sustainable part of the music industry. He, at first, got a job with Roadrunner Records in New York, but that didn't last long with Napster coming into the picture. It became even more difficult to be in the industry so he took a job as Project manager, which he hated…
Kela would see how burnt out and unhappy Scott was. He was still going to shows and scouting bands but it wasn't full time. He didn't have a commitment/connection to his passion and it was burning him out. A friend later reached out to him about a school teaching kids the kind of music he was so desperate to get back into, he was immediately interested. The school was founded by Paul Green and was the baseline for a movie you might know the "School of Rock," which famous actor, Jack Black, was in. Scott liked the idea, but when he went to visit the school he was ultimately disappointed. "It was cold and uninviting… I didn't like a lot of what I saw with how they interacted with the kids," Scott would say. Despite this he was still interested in the concept just not how corporate it was.
Scott, with his childhood struggles within his passion and now missing out on the industry, wanted to try starting his own school. He had laid out a business plan and with his excitement- tried to get a loan, but with the Great Recession happening during the 2000s it just didn't seem like it was going to happen. He and Kela, prior to the recession, had gotten a home that they now had equity on. So even considering the risks, he and Kela used that equity to get a loan. Kela said "I was never going to tell him not to chase his passion."
Eight years later, the school was going amazingly with 200+ students attending and 14 instructors joining too! Which was a large improvement from the previous situation of Scott managing a ton of bands all at once. At the beginning, it was difficult to find show venues for the students so Scott had lied to the Champion Billiard Sports Bar in Frederick. Scott says he told the owner Gary Allen that "he could guarantee 100 people show up on a Saturday afternoon when nobody is there."  Pure luck struck when 250 people showed up for his students' 4 bands.
Now the Rock School at the same bar books shows every 12 weeks with up to 27 bands playing. But we're getting ahead of ourselves. Back into the past; the School had its first large success story with their band, Bad Seed Rising.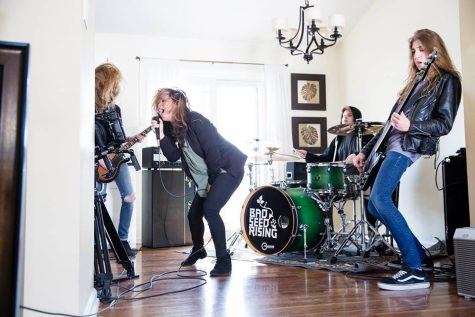 A band consisting of teens, not even out of highschool, signing a record deal in 2012 with Roadrunner records. Bad Seed Rising was one of the first bands to enroll when the Rock School was starting, making up the band was Scott's son and a friend (they would later be joined by two more members).
The youngest member of the group, Aiden Marceron (Scott's son), was only 11 when the first record deal was signed; and they eventually started touring. Since Aiden was young though, Kela and Scott weren't gonna have him touring with some rando manager. Scott, as a result of this, managed the band while they were on tour. Kela with Scott not only had to take on a bigger role at home but at the school too. Scott even with this management, did not ask for any payment (which may sound like whatever it's his son but even managers that are parents commonly ask for pay). Scott states "This was about these kids. It wasn't about me, not about the parents." The young band Bad Seed Rising would get guidance from Scott, but would still find some struggles themselves. The Band split up in September but still talks. Beside the sad stuff, the band when they were together released 3 EPS and one full album. They also collaborated with Foo Fighters, and had a festival date with Judas Priest. Another success story bloomed only 3 years after Bad Seed Rising, the band More to Monroe signed a deal. The band released EPs and played the Warped Tour in 2016. Scott himself is having success within managing again too, he says he's managed a bunch of big bands and is currently managing a writer and producer in Nashville, Kyle Odell. He continues to say "he's worked with Nita Straus on her song Dead Inside," (dead inside is a hit featuring Disturbed with 11,841,636 listeners).
There are booming success stories and then there are just kids that are starting out, wanting to play in a band or even just practice. MJ King is a sophomore at Brunswick High. While she is in 3 different bands at the rock school she let us take a look into her band, Heezay. Heezay, she says, has been around for over 6 years with the current band members being her with vocals, Ben Wolfe on drums, Jason Bowman and Cooper Welleoms on guitar, and Felix on keys. Heezay started off as an instructor band known as Sauce. It was a group with only workers at the rock school who slowly passed their band down to other kids. MJ says her band has faced some difficulties with inconsistent dummers and vocalists, but states that "now it seems like we have a nice group." Sauce is a post hardcore/nu metal band- MJ says that a recent show of theirs, performed at Clarion Hotel, had to be their favorite. The band played Around the Fur by Deftones and Dam That River by Alice in Chains. MJ hopes she can create and produce music on her own some day, but for now she's thankful to be able to learn so much from her bands and have a comfortable place to strengthen her talents. The band has recently made an instagram, if you're interested in supporting their music you can find them here.
If you're into a heavier set of music you'll love this all BHS student band; Haven. Haven is a relatively new band at LTBR consisting of four sophomores; Adam Mitchell, Julian Moss, Isaac Mendez, and Noah Hinkle.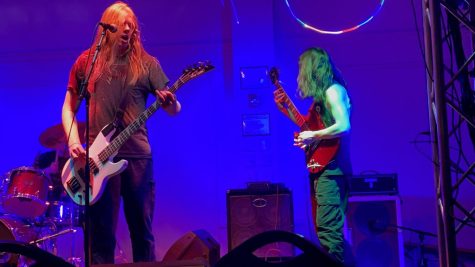 Noah and Isaac; the vocalists, Isaac and Julian both play guitar, Adam on drums, and Noah also plays Bass. Haven says that they don't have a specific set style of music, but they go for punk and the adjacent genres. With the different tastes of each of the boys, they struggle with their creative differences, but Haven hopes to stick together through the years. They're working on creating music and are even making merchandise.
The four have been friends for many years, having already been in a band together before this one as COR, where Isaac says they got to perform one of their favorite shows when given the opportunity to open for Black Label Society- playing Down by Stone Temple Pilots, Unsung by Helmet, and Come Out and Play by The Offspring.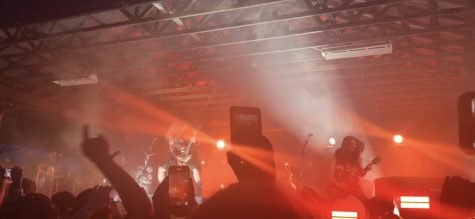 "I think it went well and it felt really cool having people come up to us after our set and congratulate us. I felt like a celebrity." Isaac joked. Readers interested in following this band's upbringing can find them on instagram here!
Our final band is a punk/post-hardcore group with 5 members. Dom Vigliotti plays in two bands at the rock school. She told us about her band Sharks, Cows, etc., with four other members, two from BHS. Dom plays the bass, Kaylyn Keller and Tyler Schroyer on guitar, Adam Mitchell on drums, and Izzy Smith on vocals. Dom is not only working on producing music with the band, but also on their own as Fisheyedom. Her most popular song being how i feel with over 500 thousand streams on Spotify! She has released many other ep's with her most recent, forevermore. It is clear that the rock school has really helped her on her journey to the big times!
The rock school not only teaches kids how to write and learn music, but also gives them important skills needed while growing up like working through differences, social skills, and public speaking. If you want to join the Rock School to play in a band or just get lessons ranging from anything like vocals to piano, bass, and guitar, you can look at signing up here.
Leave a Comment
Donate to Garnet & Gold Gazette
Your donation will support the student journalists of Brunswick High School. Your contribution will allow us to purchase equipment and cover our annual website hosting costs.
About the Contributors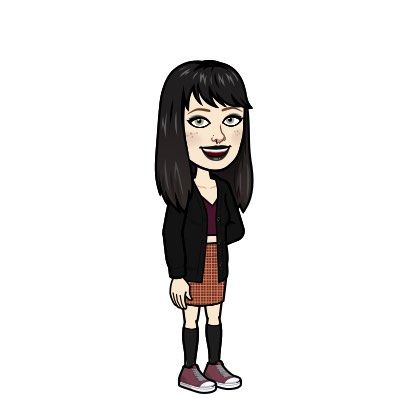 Mars Haga, Engineer
Mars Haga, Engineer
Journalism I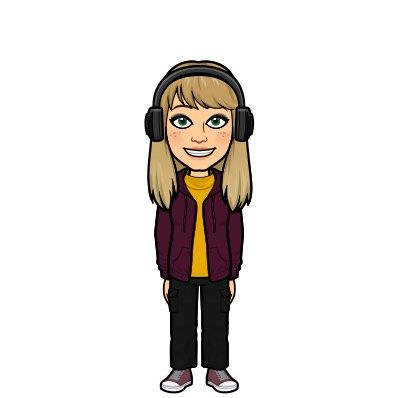 Belle Pique, Engineer
Belle Pique, Engineer
Journalism I