On November 13, 2023, Brunswick High School hosted acclaimed author, Neal Shusterman, thanks to our literacy specialist, Lydia Kowalski, and Brunswick Middle School Media center advisor, Heather McFadden. Known for his bestselling novels like Scythe and Unwind, Shusterman engaged with our students—sharing his process of creating his latest graphic novel, Courage to Dream. During his presentation, he answered students' growing questions about his process to even the simplest of personal questions. 
In the first segment, Shusterman goes into the inspirations behind his most recent graphic novel. Addressing his Jewish heritage, he drew from childhood tales, such as The Golem creature animated through an incantation, and the real life account of Anne Frank hiding from the Nazis. Shusterman transformed these narratives into a modern tale, exploring a possible scenario of present-day persecution faced by Jewish individuals and others. This graphic novel was his main focus of the presentation and spoke mostly about such a heartfelt story.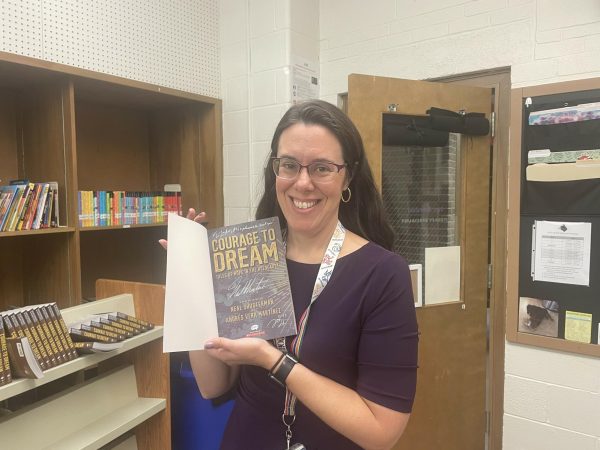 Following the first part of his presentation, Neal Shusterman engaged with questions from the audience, composed of both Brunswick Middle School and High School students. Questions ranged from his audience, ones like what motivated him to write dystopian novels or if his novels will ever be turned into movies. Shusterman clarified that he doesn't see his writing as strictly dystopian. In fact, he began Scythe during a time when he found dystopian narratives as frustrating. His motivation centers on addressing important social issues, evident in novels like Dry, which explores the consequences of water scarcity or Scythe, in which contemplates on how society moves when they reach immortality. 
To our audience's surprise, Neal Shusterman addressed the possibility of his novels being adapted into movies. Despite stating that only one in every thirty projects tends to make it to the big screen, he shared the progress with turning Scythe into a movie. Unfortunately, the scripts fell short of expectations. However, the exciting twist emerged when acclaimed director Steven Spielberg took on the project, transforming it into a series instead. This possibility significantly increased the likelihood of seeing Shusterman's work on television. Moreover, screenwriter Sara Gamble, known for her work on the critically acclaimed show You, has also been involved in developing Shusterman's Unwind series for the screen. The reveal delighted the audience, allowing all to envision the possibility of watching a show that came from the author we were seeing. 
The presentation filled us with pride as we witnessed an amazing author on our Brunswick High School stage. He kindly answered audience questions, and we're truly thankful for the opportunity to see such an amazing man. We wish him the best in bringing series like Scythe and Unwind to television.
Special thanks to Lydia Kowalski and Heather McFadden for making this event possible in our small town. Lydia Kowalski shared that Neal Shusterman is down-to-earth, and we hope to welcome him again to discuss his future works in our community.