Let's Have A Ball At Cinderella: The Musical
Coming To The BHS Stage In April!
On April 7th, 8th, and 9th, the BHS stage will be graced with a whimsical production of Cinderella! And not just any Cinderella story—the 1957 musical version created by the legendary musical theater duo Rodgers and Hammerstein. The composing & lyricist duo are critically acclaimed and loved for their musicals, including the classics Oklahoma! and The Sound of Music, a show which came to the BHS stage a few years back.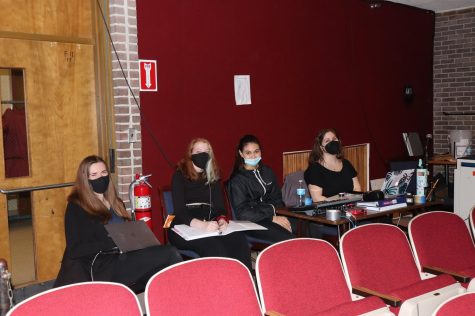 For performing a show like Cinderella, the cast had to prepare hard for the vocally demanding parts. They have been gathering almost daily since February and working with Mr. Fowle on blending and highlighting their strong voices, separately and together. As a techie (theater slang for members of the technical crew) it has been really fun watching the actors bring the show to life through the music and their interactions. 
The crews behind all the music, lights, costumes, and set pieces also have been working hard together to add the extra magic to the show, with the leadership of our stage managers. (Ann Davies, head stage manager, is pictured right). Having worked most recently on Brunswick's fall play, Almost, Maine, I have been glad to return again and find that the stage still has that magnetic charm. After COVID, of course the theater took a large hit, but the rebuilding of the community has been great to see and be a part of. Lyndsey Peterson (pictured right), theater director and teacher here at Brunswick, shares this sentiment: 
"I'm just so excited for the audience to experience live musical theater once again. This show is magical in so many ways, and I am so grateful that the BHS community has continued to support the arts despite COVID. Now they can finally experience the beauty of the Brunswick musical in all its glory. Specifically though, those transformation scenes are pretty spectacular, and I can't wait to see the audience reaction to those."
This time, the team is doing something special and partnering with Cinderella's Closet, a foundation which collects prom dress donations for students in need of one. If you would like to donate, please visit the website or email Ms. Peterson. Join us for a dreamlike adventure, whimsical atmosphere and powerful voices—don't let the clock strike midnight and miss your chance! 
Tickets are on sale now at showtix4u.com! Show Dates: April 7th, 8th, and 9th at 7 PM with a matinee show at 1 PM on the 9th.
Leave a Comment