Each Thread Counts
How Has French Leavers Lace Evolved?
15th CENTURY
The start of lace was first brought to the world through fashion. It all started in smaller parts of Europe but quickly spread throughout the rest of Europe. Genoa and Venice were the first cities to start production. Later on, once lace started to enter the fashion industry and take over France, England, Belgium, and Holland started to hand make lace to create new styles through the fashion industry. At this time all lace was handmade, this took months to complete a single piece of the textile or clothing. Catherine de Medici, the Queen of France (1547-1559) was the first to introduce lace.
16th CENTURY
During the 16th century lace making was small independent cottages in the countryside to create new styles for King Louis XIV. They used lace to decorate almost every item of apparel such as waistcoats, dresses, sleeves, collars, boot tops, shawls, parasols, and even fans. Throughout the towns there were many lace making cottages that employed hundreds of lace makers. Throughout King Louis XIV reign, there were many laws put in place regulating who could wear curtain lace such as sport lace and when they could be women. But even though these rules were put in place—they were ignored. 
17th CENTURY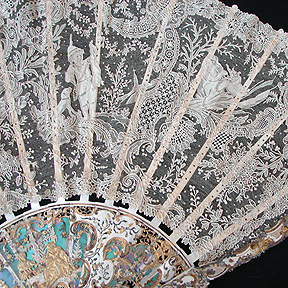 In the later 17th century the England mechanical warp knitting machine was invented. During the Revolution the want for lace grew more and more making the price grow. The use of lace was now also used in dresses, sheets, pillow edgings, curtains, layettes on newborns, and dolls. The Duchess of Longueville established schools for the trade that includes more than 100 villages. The importance of passing down this trade was very important for the fashion industry at this time. A complicated etiquette arose during this period. Rules such as certain colors could only be worn at certain times of day, no lace in the morning, specific styles and weights of lace were worn for seasons. In 1793, these rules were broken. Historians credit Marie-Antoinette for the adoption of a simpler lace to allow harmony with new lightweight Indian Muslins, a new type of fabric. At this time period gowns used heavy brocades, silks, jewels, metals and layers of lace that weighed more that 15 pounds.
18th CENTURY
Around the Napoleonic Wars fashion trends shifted because of the inventions of lace making machines and the Leavers loom. This machine could mimic handmade lace in a smaller period of time. The original machines made only tulle net but it was discovered that they could be adapted. Leavers looms weigh several tons and are very noisy when weaving. It takes an insane amount of precision and good eyesight to load thousands of threads, sometimes even more depending upon the complexity of the pattern. Patterns usually take months to create and are still created/invented today to keep up with the fashion trends.
PRESENT
Today French lace ranges from $500-$2,000 a yard. Even though trade schools were set up in the late 17th century, lace makers are hard to find to continue this trade. There are only a few hundred Leavers looms left today that are still in production creating new lace to match the changing fashion trends. It takes around 20 people to produce Leavers lace.
Even though the machine is weaving the threads there is someone who must go back through each and every inch of the lace and repair any torn or missing sections. Tullists watch over each loom looking and listening for any tears during the weaving process, if there are any tears they must carefully repair the individual thread and continue the process of weaving. Laces with added pearls, crystals, or sequins will cost more. With only a few hundred looms and no more companies to make more looms the machines might break or parts might wear down. This leaves manufacturers to rely on existing looms to swap spare parts between the companies.
With such demand for Leavers Lace the industry must continue its trade and pass on its traditions to stay in business and the fashion industry.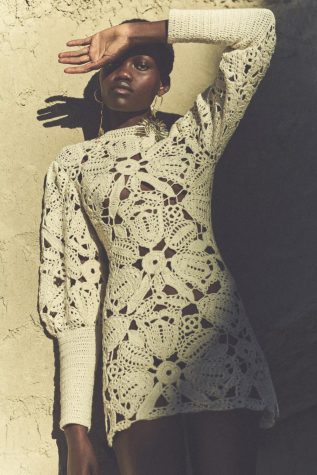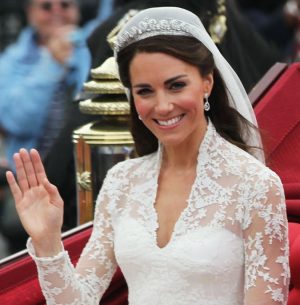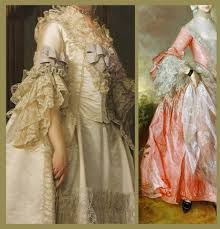 Leave a Comment
Donate to Garnet & Gold Gazette
Your donation will support the student journalists of Brunswick High School. Your contribution will allow us to purchase equipment and cover our annual website hosting costs.
About the Contributor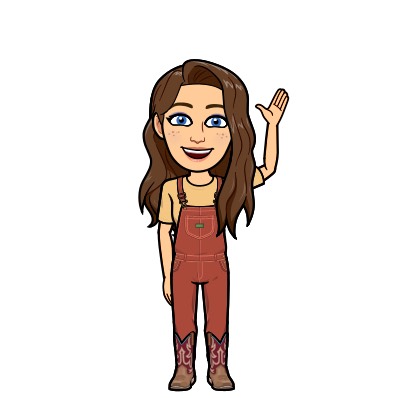 Mia McGuffin, Engineer
Mia McGuffin, Engineer
Journalism I
Journalism Club